PEMF Devices for Sale - Get Faster Results with this Machine
* This is a contributed article and this content does not necessarily represent the views of IBTimes.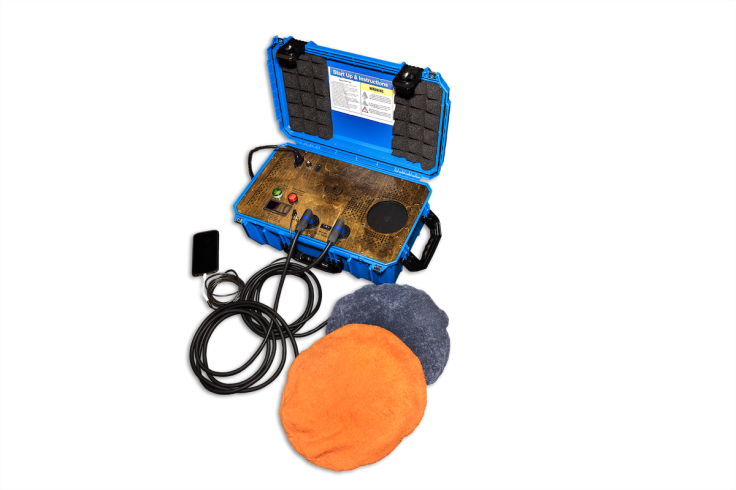 SENTIENT ELEMENT is one of the most powerful, affordable, and portable PEMF devices for sale on the market. It enables you to select between long, low-intensity sessions to short, deep penetrating high-intensity sessions, or anything in between.
The founder of SENTIENT ELEMENT, Larry Langdon's journey from a near-death experience from Lyme disease to a world-beating product that could improve the lives of millions was a comprehensive one.
Not only did he develop the best PEMF Machine on the market, but he tested it on himself
before making it available to you.
This is why you should choose SENTIENT ELEMENT:
Born after 30+ years' research in Boeing, Intel, Microsoft.
Advanced Dual Coil system for more power to debilitate pathogens.
Featured in MedicalNewsToday for Best Frequency Ranges.
A Machine with our spec costs $20,000 to $30,000 in the market
What sets SENTIENT ELEMENT PEMF Devices apart?
Comprehensive Frequency Ranges
The SENTIENT ELEMENT features an amazing frequency range of between 7 and 10,000Hz. Compare this to most other PEMF machines that only have a range of between 1 and 50Hz!
Higher frequencies are critical to treatment as they work to debilitate key pathogens. This means you can rely on SENTIENT ELEMENT to not only alleviate your pain but also to fortify your body's overall defenses.
Matchless Power
No other PEMF machine in the market comes close to matching the power of the SENTIENT ELEMENT. With a 2500- watt amplifier, the SENTIENT ELEMENT produces a robust pulsed electromagnetic field.
Safe and Reliable
Our PEMF machines feature overheating protection mechanism, as well as amplifier overdrive protection. This means SENTIENT ELEMENT is designed to operate safely in your home, or wherever you need to use it. It will stand the test of time, so your initial investment returns many years of health benefits.
A Portable, Convenient Solution
You can enjoy hassle-free travel with our SENTIENT ELEMENT carry-on case. It comes with a pull handle and lightweight wheels, so you can take it anywhere you go.
Lifetime Warranty
SENTIENT ELEMENT comes with a lifetime guarantee. If you experience any problems with your SENTIENT ELEMENT, simply send it back to us for repair –absolutely free of charge!
Advanced Dual Coil System
The dual coil system gives you a greater treatment service area when you use PEMF therapy. This means that no health issue is too great or too small. SENTIENT ELEMENT has got you covered.
Best value for Money
To see how the SENTIENT ELEMENT compares to other PEMF devices on the market, view the charts on our website. In the market, a machine with our specs cost between $20,000 and $30,000. On the other hand, SENTIENT ELEMENT costs about $4,600, and has by far the best technical specifications.
SENTIENT ELEMENT – Your Key to Total Wellness
Click on PEMF Devices to know more about how SENTIENT ELEMENT can help you.
Why is SENTIENT ELEMENT Dual Coil the most cutting-edge PEMF Machine available today?
SENTIENT ELEMENT uses an advanced coil design. The size of the PEMF coils will have a significant impact on the magnetic field they produce, similar to how speakers create a sound field.
You would not expect to be able to play music to a room full of people with a set of ear buds. They are just too small to hear unless they are right in your ear.
With PEMF coils, the same holds true for magnetic field. If you want the field to penetrate deep into your body where it is needed, it must be large enough to create a large magnetic field.
While intensity goes deep, the larger surface area will cover more parts of your body. Our dual coil system that can give you twice the coverage of the pulsed electromagnetic field
A bio-mat is likewise comparable to a dual coil system.
Benefits of SENTIENT ELEMENT PEMF Machines
Pain Reduction
Reduces acute and chronic pain without any side effects by stimulating the production of natural endorphins in the central nervous system, which in turn blocks the transmission of pain signals to the brain.
Reduced Inflammation
Leads to the reduction of inflammation by recharging the cells with a mild electromagnetic current, which helps the cells heal faster, leading to less swelling, pain and bruising.
Better Circulation
Improves circulation as well as blood and tissue oxygenation, thereby improving the blood flow to your feet, legs, arms, hands, and fingers.
Increased Range of Motion
Helps people with arthritis and rheumatism improve their range of motion and get them back on their feet.
Enhanced Motor Coordination
Useful for those with Parkinson's disease and Alzheimer's disease where motor coordination begins to deteriorate. Even athletes experience performance-enhancing effects.
Superior Sleep Quality
Helps induce sleep among insomnia sufferers and people with other sleep-related disorders by stimulating the hypothalamus — the gland that controls circadian and sleep rhythms.
Customized Therapy
Its programmability allows you to choose from long, low-intensity sessions to short, deep penetrating, high-intensity sessions. This means you can customize your PEMF Therapy sessions and share it with your loved ones with an extra coil.
SENTIENT ELEMENT – Your Key to Total Wellness
Shop Now - PEMF Devices for Sale
Who can benefit from the SENTIENT ELEMENT?
SENTIENT ELEMENT has a wide range of applications, especially for the following:
Home use: Achieve your personal wellness goals by investing in your health with SENTIENT ELEMENT. Address your health problems and those of your loved ones, and improve your total quality of life.
Chiropractic clinics: The regular application of SENTIENT ELEMENT works to address tense muscles, frozen joints, inflammation, chronic pain and hypertension, therefore any adjustments that need to be made can be easily facilitated.
Sports and athletic facilities: PEMF therapy effectively addresses pain, swelling, soft tissue and bone damage that frequently result from sports-related activities. By accelerating the healing process, recovery time is drastically shortened, while also increasing energy levels.
Pain management clinics: Using PEMF technology for pain relief can put your practice at the forefront as SENTIENT ELEMENT is proven to expedite healing and recovery and to reduce scarring.
Wellness centers, spas and anti-aging clinics: Aside from accelerating healing at a cellular level, PEMF therapy stimulates bioactivity that results in the restoration of lost cartilage and bone tissue. It also improves joint mobility and skin quality.
Veterinary practices: Clinics that specialize in equine therapy, as well as General veterinary clinics and hospitals implement PEMF therapy. It accelerates healing and reduces pain among their animal patients.
Healthcare Professionals and Athletes love SENTIENT ELEMENT
SENTIENT ELEMENT is one of the best, most powerful, affordable and portable PEMF Machines for sale on the market. It's no wonder that individuals, wellness establishments and healthcare organizations are already harnessing the benefits SENTIENT ELEMENT offers.
Our clients include:
Causenta
Known as a prominent healthcare organization that combines allopathic and naturopathic medicine to treat cancer. They address performance health concerns of top athletes from Ultimate Fighting Championship (UFC), National Football League (NFL) and Major League Baseball (MLB) star athletes.
Doc of Detox
The Doc of Detox is actually Dr. Darrell Wolfe, a Doctor of Natural Medicine (DNM) and Doctor of Humanitarian Services (DHS) who's also certified with the Board of Integrative Medicine.
PowerAthleteHQ
John Welbourn, 10 year NFL veteran.
Get the most out of your PEMF therapy sessions with SENTIENT ELEMENT.
For more information, visit the website sentientlight.com
SENTIENT ELEMENT is more powerful than Magnawave for horses, Bemer and Ampcoil.
© Copyright IBTimes 2023. All rights reserved.