Invincible Spirit 2016 Exercises: US, South Korean Navies In Long-Range Strike Drills To Counter Nuclear North Korea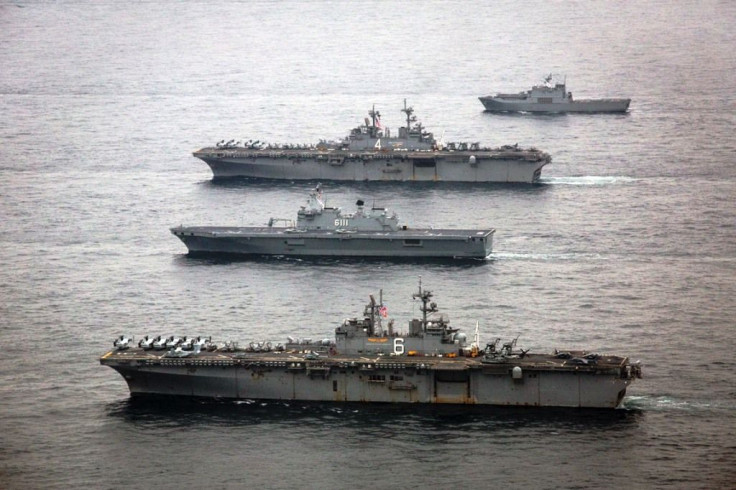 South Korean and U.S. navies carried out long-range strike drills aimed at countering North Korea's nuclear facilities, Seoul officials said Tuesday. The exercises were part of the ongoing Invincible Spirit 2016 drills by the two countries to show military force against the isolated nation's likely provocations concerning nuclear and missile tests.
"The 'Invincible Spirit' exercise has put a bigger focus on striking North Korea's key nuclear and missile facilities. The change comes after the North's fifth nuclear test last month," a South Korean defense ministry official told Yonhap News Agency.
Washington and Seoul applied the concept of "Korea Massive Punishment & Retaliation" to boost striking capabilities of ship-to-ground missiles, the official told the South Korean news agency. The concept aims to destroy parts of Pyongyang and anticipate pre-emptive bombing attacks on North Korea's leader Kim Jong Un and top leadership of the country in case of imminent nuclear threat to South Korea are detected, the report added, citing the official.
Invincible Spirit 2016 will conclude Saturday.
Last Thursday, 38 North — a blog run by Johns Hopkins University's School of Advanced International Studies — reported that commercial satellite images showed increased activity at the Punggye-ri Nuclear Test Site in the northern-most province of North Korea. The activities at the site's north, west and south portals indicated that the North could be preparing for the next nuclear test, collecting post-test data or sealing the portal.
Other activity was detected at the Sohae Satellite Launching Station in Tongchang-ri, North Pyongan province, according to 38 North. However, it remained unclear whether it was related to launch preparations or other operations.
© Copyright IBTimes 2023. All rights reserved.