iOS 11 Roundup: Release Time, Features, Device List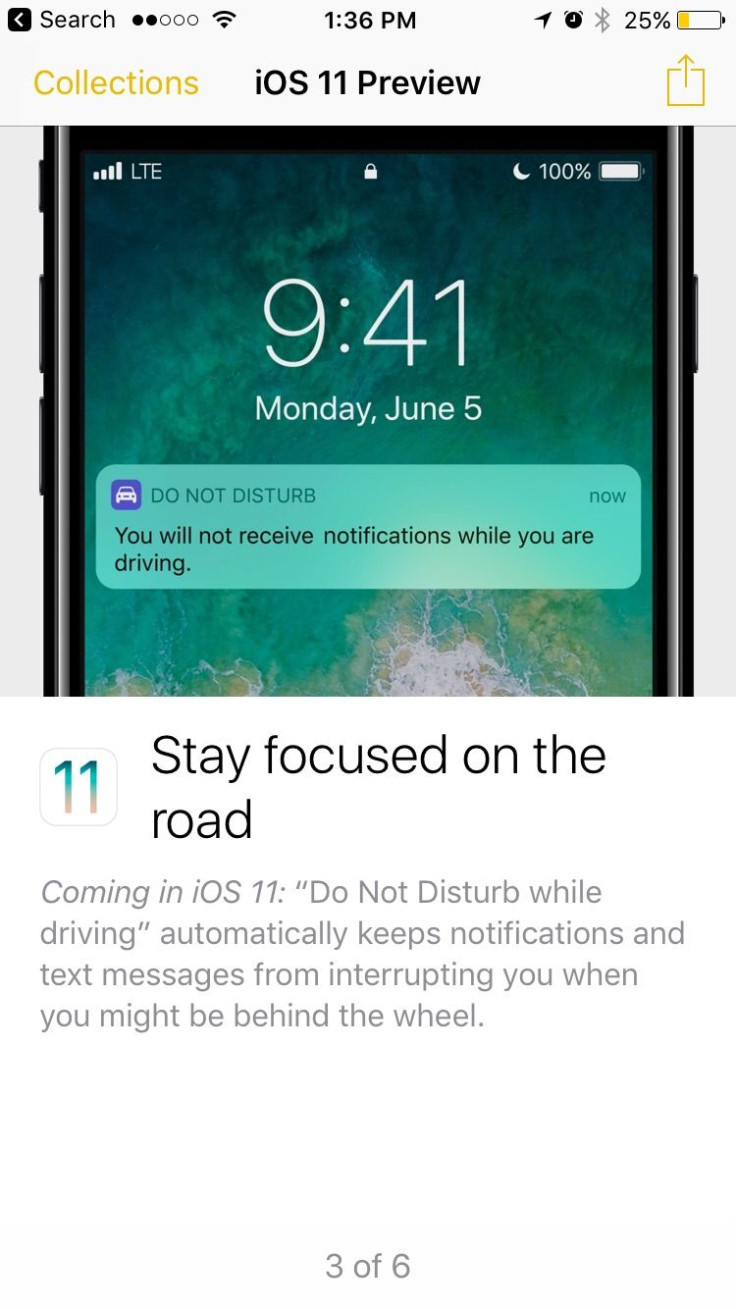 Apple is set to roll out Tuesday its latest update: iOS 11. While some on the East Coast are already up and waiting for the software update, iOS 11 will come out based on West Coast time.
As Apple launches iOS 11, here are several things to know about the new update. Update: Apple's iOS 11 release time is here, as many users have started seeing the iOS 11 update appear.
iOS 11 Release Time
While the time of the release date was not specified, it is believed iOS 11 will launch at 10 a.m. PDT and 1:00 p.m. EDT, like previous releases. International Business Times has reached out to Apple to confirm.
iOS 11 Device List
iOS 11 will be compatible with iPhone 5s, iPhone SE, iPhone 6, iPhone 6 Plus, iPhone 6s, iPhone 6s Plus, iPhone 7, iPhone 7 Plus, as well as the upcoming iPhone 8, iPhone 8 Plus and iPhone X. The software update will also work with the sixth generation iPod Touch.
For iPads, iOS 11 will be compatible with: 12.9-inch iPad Pro (second generation), 12.9-inch iPad Pro (first generation), 10.5-inch iPad Pro, 9.7-inch iPad Pro, iPad Air 2, iPad Air, iPad (fifth generation), iPad mini 4, iPad mini 3, iPad mini 2.
How To Update To iOS 11
To update to iOS 11, go to Settings > General > Software Update.
iOS 11 Features and Tips
Apple revealed iOS 11 at its Worldwide Developers Conference in June. Earlier this month, Apple sent out a notification to iOS device owners pushing the new features and offering tips about the update.
Augmented Reality
One of the biggest features iOS 11 will bring to Apple device owners is augmented reality. Apple released its ARKit earlier this year to allow developers to create AR apps. This summer, Apple CEO Tim Cook said "iOS will become the biggest AR platform as soon as iOS 11 shows."
Do Not Disturb While Driving
The new update will also address various lawsuits with its Do Not Disturb While Driving mode. The feature automatically senses when the user is driving and turns off notifications. The mode sends out automatic replies to those contacting the user, saying the person is on the road and will answer later.
The feature follows multiple lawsuits that involved distracted drivers in which Apple was named. The plaintiffs argued the company failed to include technology on its devices that would curb distracted drivers.
Live Photo
iOS 11 will come with its new Live Photo features that include a Boomerang-like effect called Loop and another one called Bounce. Users will also be allowed to save single frames in videos on the Photos app with the new update.
Apple Pay
Another major improvement on iOS devices is the new person-to-person payment feature on Apple Pay. With iOS 11, users will be able to pay their friends and family with Apple Pay on iMessage using their device's Touch ID or Face ID for those who get the iPhone X. The update will also sense when money is owed during iMessage conversations and will pull up Apple Pay as a suggestion.
Health
Apple is trying to boost with link between Apple Watch and iOS devices. iOS 11 will allow users to sync their health data across their devices through iCloud. iOS 11 and the Apple Watch's upcoming update, watchOS 4, will also sync music playlists from a person's Apple Music to their Apple Watch.
Siri
Siri will improve with iOS 11. Users will be able to use the virtual assistant as a translator for phrases in Chinese, German, Spanish, French and Italian, with more languages coming soon. Siri will get to know users better by understanding context, interests and how they use their device. Using the information gathered, Siri will suggest topics on the News app, improve its suggestions on iMessage and will create calendar notifications based on things booked in Safari. Siri's knowledge of the user will be synced across the person's Apple devices.
Apple Music
Siri will work as a "personal DJ" with Apple Music, according to the Tips notification. Apple Music will learn what kind of songs users like to listen to, and with that data, users can ask Siri "Play something I like" and it will then give users the option to open the Music app.
Control Center and Files
iOS 11 will also change the device's Control Center. Users will be able to customize it to access their favorite controls faster. The Control Center will include more options though 3D Touch, like brightness, volume and music. iOS 11's new Files app will give users access to all their documents, including those stored in iCloud Drive or with third-party storage services like Dropbox.
© Copyright IBTimes 2023. All rights reserved.