Apple Pushing New iOS 11 Personal DJ, Driving Mode Features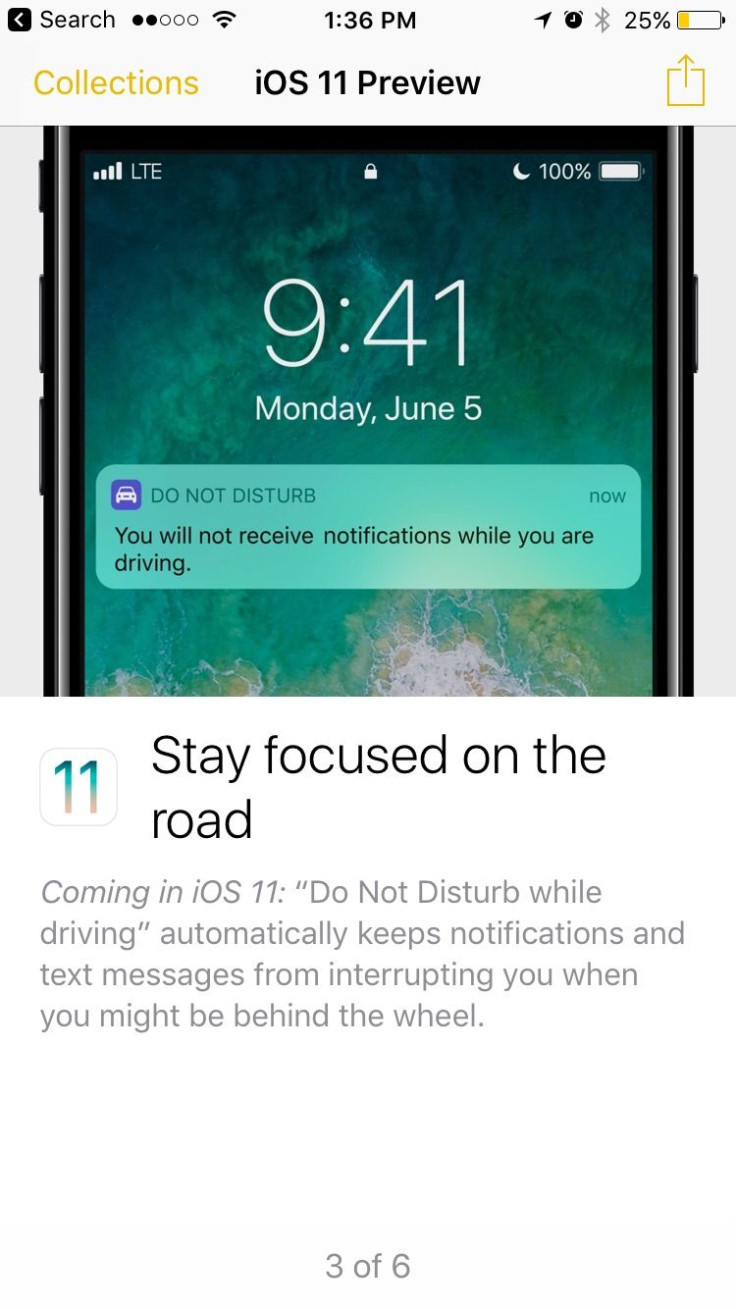 Apple is pushing its upcoming iOS 11 update for iPhones and iPads before it holds its press event next week. Starting Thursday evening, Apple began sending out notifications that said "Learn about the new Control Center coming in iOS 11" to prepare users for the software update.
Apple is set to release iOS 11 this month. The company will hold its press event September 12, in which it will likely reveal the iPhone 8. The event will reportedly take place at 10 a.m PST in the Steve Jobs Theater at the new Apple Park campus in Cupertino, Calif., and could include a bigger preview of iOS 11.
Apple previously teased some features iOS 11 will include back in June at its Worldwide Developers Conference. To see the iOS 11 preview at WWDC you can skip to minute 52 here or see below.
Apple is highlighting iOS 11 features in Tips. If you missed out on the notification, go to the Tips app (or go to Siri Search on your iOS device and type in Tips), click on it and go to Collections > iOS 11 Preview.
The iOS 11 Preview collection has six cards and short clips on how the new features work.
Control Center
The collection starts off with "Take Control." iOS 11 will come with an improved Control Center that will allow users to customize it to access their favorite controls quicker. The Control Center will also include more options though 3D Touch. Apple showed a preview of this feature back in June. Apple said using the 3D Touch on Control Center options will give users access to more controls, including brightness, volume and music.
Files App
Apple is introducing its new Files app with iOS 11. The Files app will give users access to all their documents, including those stored in iCloud Drive or with third-party storage services like Dropbox.
Do Not Disturb While Driving
One of the most important features Apple is introducing is its Do Not Disturb While Driving mode. The feature automatically sense when a user is driving, by using speed detection, and will turn off notifications. The mode will display the "You will not receive any while you are driving" on the screen when the feature is on. It will also also auto-reply when people sends the user a message, saying they are on the road and will answer later.
The feature comes after Apple was named in multiple lawsuits that involved distracted drivers. The plaintiffs argued Apple failed to include technology on its devices that would curb distracted drivers.
Personal DJ
With iOS 11, Apple Music will have the ability to learn what kind of songs users like to listen to. To use the feature, a user can ask Siri "Play something I like." Siri will then give users the option to open the Music app.
Live Photo
Apple is also promoting its new Live Photo features, which will include a Boomerang-like effect called Loop and another one called Bounce. Apple also previously said users will be able to save single frames on the Photos app with iOS 11.
More iOS 11 Features
The final card tells users they can learn more about iOS 11 on Apple.com. It also says their iPhone will notify them when iOS 11 is available.
Apple previously announced other features on the iOS 11 app, which includes a person-to-person payment feature with Apple Pay. Apple Pay will be integrated into iMessage with the new update. Users will be able to send and receive money using their Touch ID while messaging friends and family.
The upcoming update will also give Siri a boost. Users will be able to use Siri as a translator. Translations will be available in Chinese, French, German, Spanish and Italian, with more languages coming afterwards, Apple said at WWDC.
Siri will also work to know users better by understanding context, interests and how the person uses their device. With the information Siri collects, the virtual assistant will suggest topics in the News app, give better response suggestions in the iMessage app and make calendar alerts based on something that was booked in Safari. Siri's knowledge of the user will be synced across their Apple devices.
Apple will likely announce the exact release date of iOS 11 at next week's event.
© Copyright IBTimes 2023. All rights reserved.
FOLLOW MORE IBT NEWS ON THE BELOW CHANNELS