iOS 8: What To Expect From Apple's Latest Mobile Operating System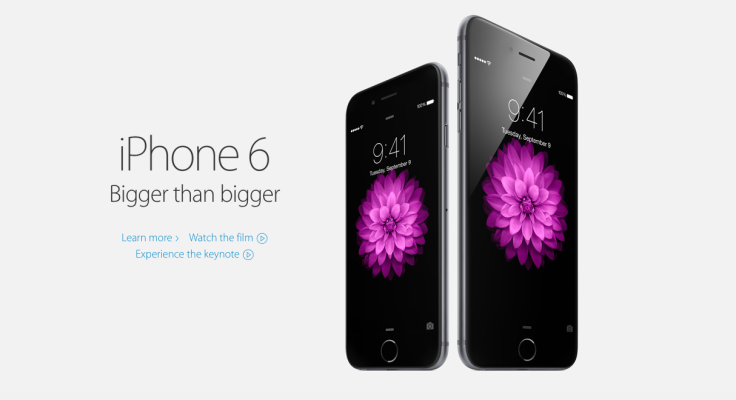 Got an iPhone, iPad or iPod Touch? Tomorrow is a big day for you because Apple Inc. (NASDAQ:AAPL) is releasing the latest version of its mobile operating system, iOS 8 to the public on Wednesday. The release comes on the heels of the mega-launch of the iPhone 6 launch, and its almost as important because for Apple, the differentiator with Samsung and the rest of the Android world are products where the hardware and the software work seamlessly together.
But even if you don't plan to upgrade your phone, you can upgrade to iOS 8, provided you at least have an iPhone 4S. Here's a rundown of some of the new features and improvements:
Photos/Camera
The Photos app has received a complete overhaul in iOS 8 to make it easier to search through photos and edit them so they'll look their best. The Photos app can now search by date, location and album names as well as give suggestions of photos to view.
Apple iOS 8 users can also now edit their photos from their iPhone or iPad with a number of new tools through the included cropping tool and a feature called Smart Adjustments, which gives users fine-tuned control over the look of a photo.
If you're looking to get a little more creative with the Camera, Apple has included a time-lapse video feature that snaps photos over a period of time, which are then compiled into a video that shows the shots in sequence.
Messages
Apple's built-in messaging apps now goes beyond text, pictures and rudimentary video. In iOS 8, users can capture sound using the microphone and send it to your iMessage contacts just like a standard text message. Or if there's more to see, Messages makes it easier to quickly record video so you don't miss a moment. Users also have more control over group messages, so you can add and remove included participants on the fly, including yourself.
If you're having trouble finding an acquaintance, Messages also has the ability to share your current location with contacts for a brief period of time.
Interactive notifications
One of the biggest drawbacks to previous versions of iOS was you had to open up the respective app for a notification when you tapped on it. With iOS 8, you can now tap on the notification to respond to text messages, accept or decline calendar invites, sort emails or even interact with third-party apps such as Twitter.
QuickType and third-party keyboard support
Apple iOS 8 brings a huge change to the iPhone with the QuickType keyboard, which suggests words to speed up your typing. QuickType also adapts to contextual situations, adjusting itself to provide suggestions for casual language in Messages and formal language in Mail.
For a completely different experience, Apple is also opening up iOS 8 to third-party keyboard developers. So if you prefer to swipe your messages or use a different style keyboard, the choice is now up to you.
Family sharing
Instead of repurchasing apps over and over again, iOS 8 Family Sharing enables family members to share iTunes, iBooks and App Store purchases without using the same account. Parents are given refined control in iOS 8 to approve their child's App Store spending without leaving their own device. The feature also enables families to contribute to group photo albums and shared calendars to stay organized.
If you lose your device, the feature allows family members to use Find My iPhone to locate each other's device. But if you're looking to stay hidden, the feature can also be turned off.
iCloud drive
Just like Dropbox and Google (NASDAQ:GOOGL) Drive, you can now access any document across from your iOS devices, Mac or PC. With iCloud Drive you can make edits on your iPhone or iPad while on the road and you'll have the latest version of the document available to you on your desktop.
The feature also enables users to share files between apps so you can create a chart to place into a document later or sketch a drawing and color it in another app.
Health
As part of Apple's HealthKit platform, the Health app provides a centralized location for all your health and fitness information from iPhone's various sensors and third-party app data. But the feature also gives complete control to the user, so you can decide what data each app is allowed to see. For an extra sense of security, Health allows users to create an emergency information card, which can be viewed from the lock screen, if needed.
Handoff
With Handoff, working between devices running iOS 8 and OS X Yosemite is even more seamless. In iOS 8, you can start writing an email on your iPhone and finish it on your iPad or your Mac. And if you receive a phone call, there's no need to actually pick up your iPhone. As long as your iPhone running iOS 8 is on the same Wi-Fi network as your iPad or Mac running OS X Yosemite, you can take the call from that device or respond with a quick text message.
When can you update?
Apple's iOS 8 will be released Wednesday, according to Apple. To install iOS 8, users can plug in their iPhone to a computer running the latest version of iTunes. Users can also install the update on their iOS device by going to Settings > General > Software Update.
Apple's latest mobile operating system will be compatible with the iPhone 4S, 5, 5C, 5S, iPad 2 and above, as well as the fifth-generation iPod Touch.
FOLLOW MORE IBT NEWS ON THE BELOW CHANNELS