iPad 3 Release Date: Debut to Include Smaller, Cheaper Tablets?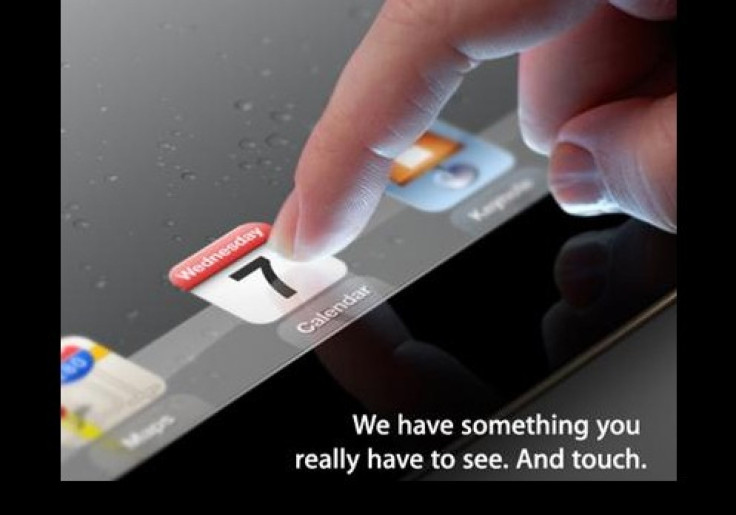 Apple has something which, according to its media invite, users will love to see and touch. It's expected to be the next-generation iPad. But, rumors are buzzing that Apple also has something else in their inventory. According to Taiwan-based Web site Digitimes, the tech giant is working on another small screen iPad and a cheaper iPad 2.
The report claims that Apple suppliers have been working to design sample models of a small iPad, whose screen is 7.85-inch only.
Amazon's $199 Kindle Fire is blazing in the tablet market and Barnes & Noble Tablet is another low-priced tablet with excellent offering. According to DigiTimes, Apple is planning to release a low-priced iPad, with smaller screen, to compete with these $200 budget 7-inch tablets. DigiTimes further predicts that the price tag of this small iPad will be set somewhere between $249 and $299. Another low cost 8GB iPad 2 is also being anticipated with a price tag of $349 to $399.
Apple already rules tablet market with over 60% shares. Apple iPad is the first choice of most users who want an ultimate high-end, full-feature tablet. However, according to DigiTimes' report, it seems Apple aims to provide a cheap tablet alternative to its fans who cannot afford the more expensive iPads.
But are these speculations true or not? Apple always believes in latest technology and trimming down features (including display size) is not in its blood. Looking at Apple's behavior, iPad Mini seems to be a false prediction. Especially as the company's late co-founder said a tablet should have at least a 10-inch display to be viewed properly.
And when it comes to 8GB iPad 2 priced between $349 and $399, the idea looks odd too. 8GB flash storage only costs about $10. Downgrading the internal storage will only make iPad 2 prices to be cropped by $10, and not by $100.
A cheap 8GB iPad 2 is pure fiction. However we cannot discard iPad Mini concept completely. The 7-inch tablet realm is currently being ruled by Kindle Fire. So we won't be too surprised to see the gadget king aka. Apple attack Amazon's kingdom with iPad Mini.
Let us know your thoughts on iPad Mini. Will it really see the light of the day?
(Reported by Johnny Wills, Edited by Surojit Chatterjee)
Must Read: iPad 3 Release Date Nears: Top 10 Trade-in Sites for Your iPad 2
Must Read: iPad 3 Release Date: March 7 Will be Acid Test for Tim Cook and Apple Sans Steve Jobs (PHOTOS)
© Copyright IBTimes 2023. All rights reserved.