iPad Sales 2014: Apple Doesn't Know How Long The Upgrade Cycle Is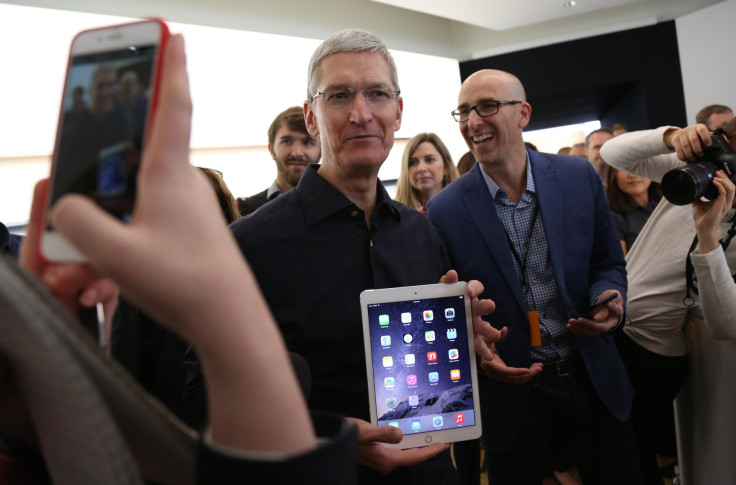 Apple's latest quarterly results indicate its biggest problem hasn't changed: iPad sales have been slumping for the past year. That's why there's so much riding on the new models released last week. Apple CEO Tim Cook doesn't know when users will upgrade and expects some cannibalization to occur from iPhones and Macs, but he's still hopeful about the tablet line's future.
"To me, I view it as a speed bump, not a huge issue," Cook said. "That said, we want to grow. We don't like negative numbers on these things."
Apple has sold a massive 237 million iPads in only four years -- double the number of iPhones sold in the same period. But unlike the flagship smartphone, the iPad has seen slower upgrades, with the iPad 2 continuing to maintain the largest share at 27 percent of iPads on the market.
"Because we've only been in the market for four years, we don't know how long the upgrade cycle will be for people," Cook said. "So that's a difficult thing to call." Despite global decline in iPad revenue, Cook maintained the market is far from saturated, citing strong sales to new iPad buyers in its top six revenue countries.
But beyond retail customers, Apple is looking to businesses to drive iPad sales in the near future. Apple's latest iPads with Touch ID and its partnership with IBM are expected to boost sales in the coming months as apps and tools are developed for businesses and governments.
"While they pointed out that [Touch ID] was an important and compelling feature request for iPad, it was actually enterprises requesting that feature, because of security," Creative Strategies Inc. principal analyst Ben Bajarin said in an earlier interview. "The Touch ID factor I think will drive continued sales as well as upgrades in those current deployments."
Though enterprise may help drive sales to the iPad, there are other obstacles to the iPad's future growth, particularly cannibalization of Apple's own product lines. Mac sales have rebounded, and the introduction of the phablet-sized 5.5-inch iPhone 6 Plus may also exacerbate the problem. Cook admitted users may choose Macs or iPhones over the iPad.
"Over the long arc of time, my own judgment is that iPad has a great future," Cook said. "I'm very bullish at where I can take iPad over time."
© Copyright IBTimes 2023. All rights reserved.