Original iPhone Vs. iPhone 6 Plus: What A Difference 7 Years Makes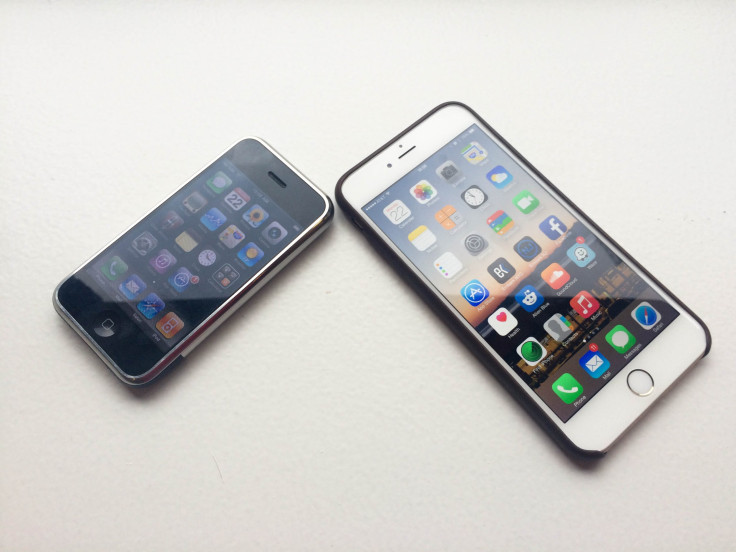 When I got my hands on the first iPhone in 2007, it changed my relationship with technology. I've held onto it and it still works great. So, when my iPhone 6 Plus arrived, I couldn't help but put the two phones side-by-side: The original world-changing phone that launched the smartphone category, and the latest version, bigger, thinner and lighter than I could have imagined seven years ago.
Here's how they compare.
In the span of seven years, the smartphone has not only grown in app selection and screen resolution, but also size, as reflected by the launch of the 4.7-inch iPhone 6 and the 5.5-inch iPhone 6 Plus.
While the changes of the iPhone 6 Plus can be readily seen compared to last year's model, we wanted to see how much has changed since the beginning. Take a look below to see how much Apple iOS and the iPhone has changed in only a few short years.
Size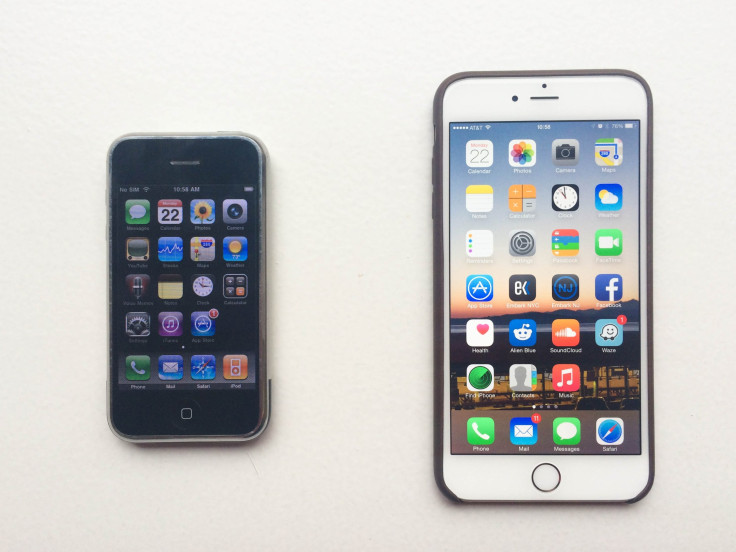 At its time, the first iPhone was actually quite large, since the trend for phones was centered on clamshell feature phones and Blackberry devices with tiny keyboards. But its 4.5-inch x 2.4-inch size pales in comparison to the massive iPhone 6 Plus, which comes in at 6.22-inch x 3.06-inch. The 2007 iPhone is also noticeably thicker at 0.46 inches, while the iPhone 6 Plus has slimmed to 0.28 inches.
Interface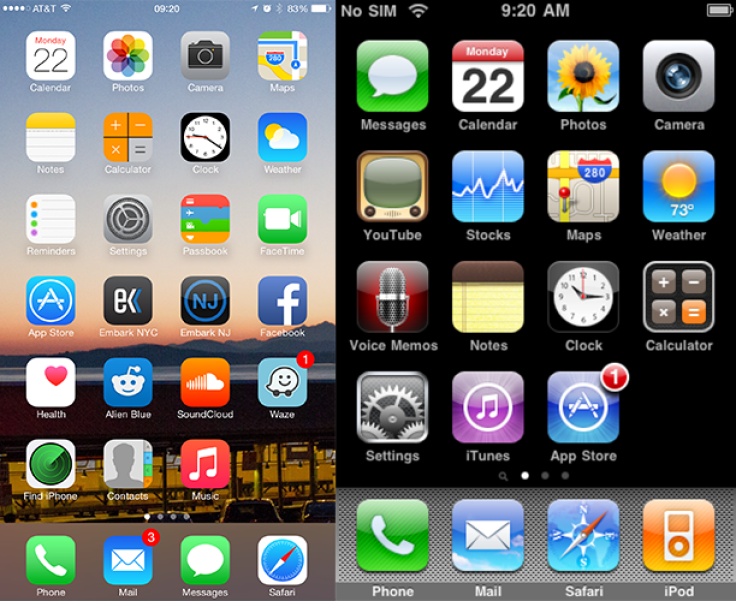 Apple's iOS 3.1.3 really shows its age on the iPhone with its skeuomorphism-centric design, which takes cues from real-world physical objects. But when jumping between the original iPhone and the iPhone 6 Plus, there's still that sense of consistency and familiarity. Gone is the skeuomorphism of earlier versions of iOS, in favor of flat design, yet everything is where you'd think it would be.
If you look closer at the original iPhone's bottom dock, you'll also see a nod to its predecessor, the now discontinued iPod. Apple's iOS media player app bore the name of the de-facto standard mp3 player for several versions of the mobile operating system until 2011, when it was renamed to "Music" in iOS 5.
Also missing from the original iPhone are a number of features we've grown used to, such as multitasking and the drop-down notification center. But you can easily see why those features weren't included until later revisions of the iPhone. While it's capable of using various apps and games, the 7-year-old iPhone lags when swiping between menus and launching apps.
Resolution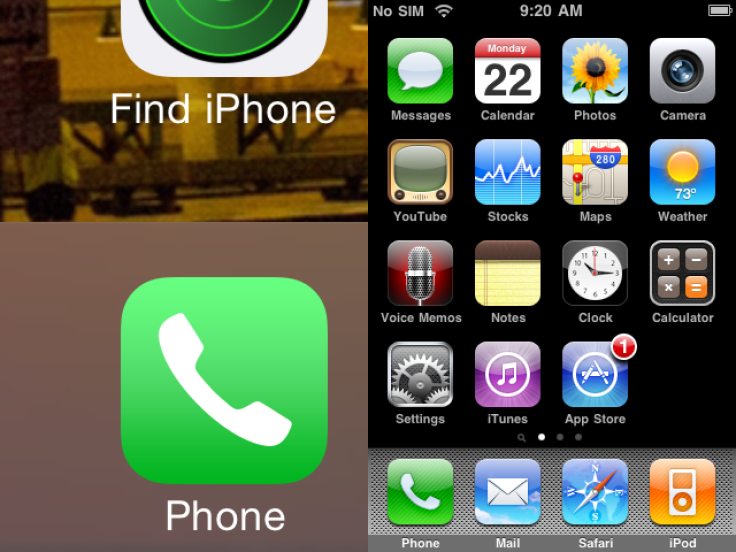 The original iPhone's 3.5-inch 320x480 pixel resolution screen is tiny in comparison to the iPhone 6 Plus' 5.5-inch 1920x1080 display. To see how big of a difference that makes, we've placed a screenshot of the iPhone next to a 100 percent crop of an iPhone 6 Plus screenshot.
Camera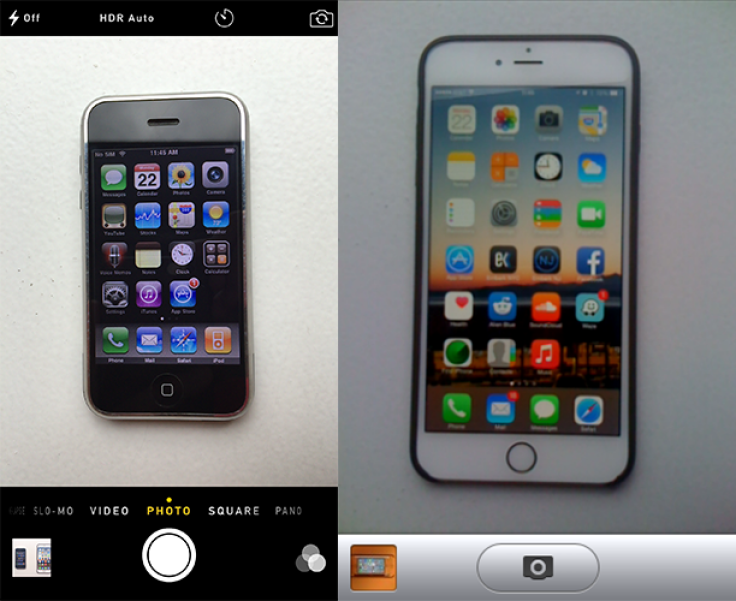 One of the most easily noticeable differences between the iPhone 6 Plus and the iPhone is camera quality and capability. The iPhone 6 Plus camera features an 8MP camera sensor with optical image stabilization and can shoot time-lapses, slow-motion video and more. The original iPhone can take pictures and that's about it. It also sports a fixed-focus lens and a tiny 2MP sensor, which is blown out of the water by the iPhone 6 Plus' camera.
Rear Shell

The iPhone 6 Plus bears much resemblance to the original iPhone, except flattened and stretched out. But one noticeable difference between the two is the plastic bottom on the iPhone. The company is said to have built a prototype iPhone fully out of aluminum. But since aluminum doesn't let radio waves easily pass through, the design was revised with the plastic bottom to account for this problem, according to the New York Times. While the iPhone 6 and 6 Plus still sport some plastic antenna bands, they're probably much closer to what was intended in the all-aluminum iPhone prototype.
Safari Browser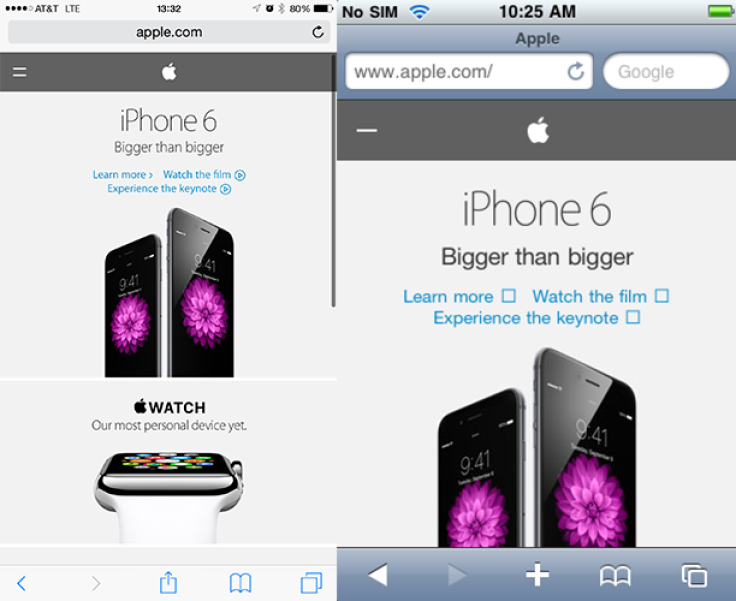 Believe it or not, the first iPhone web browser, Safari, was more capable of browsing the web than any other mobile device at its time. But as web standards have evolved, it really shows its age with pages rendering slowly and visual errors strewn even across its own website. In comparison the iPhone 6 Plus is much more capable with support for current standards, fast load times and the ability to save stories for offline viewing with the built-in Reading List.
Specs
Before Apple introduced its A* series of processors, the first iPhone sported a 32-bit 412 MHz Samsung ARM processor and 128MB of RAM. Storage options were initially limited to 4GB and 8GB, with a 16GB model being introduced later.
The iPhone 6 Plus sports a fast and efficient 1.4GHz processor and 1GB of RAM. Storage options are massive in comparison, with 16GB, 64GB and 128GB sizes.
© Copyright IBTimes 2023. All rights reserved.