iPhone 5 Release Date, Features: 3D Camera Likely, What About Other Specs?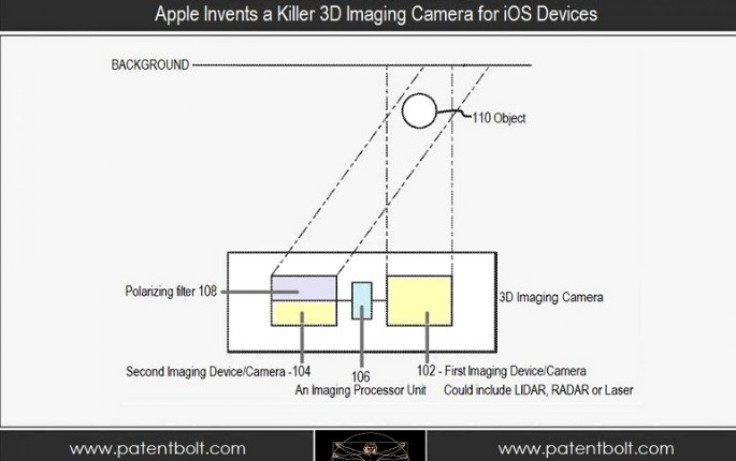 Apple iPhone 5 rumors mill were in action since last year when people speculated the fifth generation iPhone to be iPhone 5, but instead Apple fanboys had to be satisfied with iPhone 4S, which is a mere update over iPhone 4. And, though iPhone 5's debut is not expected until at least June, if not later, it hasn't stopped people from continuing to speculate what features it will carry. And guess what? The latest rumor claims that the sixth generation iPhone will boast of 3D camera.
According to Patently Apple, the Cupertino based tech giant has filed a petition for 3D camera capabilities in its iOS devices. After approval, 3D camera imaginary can become a revolutionary feature in Apple's upcoming iPhone and iPad.
If the report is to be believed then Apple iPhone 5 will feature two camera sensors linked to advance image processing module. New camera module can use RADAR and LIDAR technology and luminance sensors to produce a real-time 3D image.
According to the patent photo, the new camera will scan an object and recreate a 3D image on the iPhone screen with colors as close to real image as possibly. The new camera will include advance gesture detection features like smile detection, wink detection, frowning and more.
In the iPhone 5, the inclusion of 3D camera is likely but not confirmed as this stunning feature could get postponed and Apple might save it for so-called iPhone 6. Everything will be clear once Apple unveils iPhone 5.
Meanwhile, Apple iPhone 5 is said to be in production. Recently, Foxconn has hired 20,000 workers for a factory that reportedly will manufacture iPhone 5. The hiring spree reflects that iPhone 5 assembly work is speeding up and the new device could see the day of light in June. If iPhone 5 launches in June, Apple may skip the 3D camera feature. However, most bloggers still believe that iPhone 5 will come out in September/October, following the launch pattern of iPhone 4S. With a fall release date, there is greater possibility of 3D camera to be featured in Apple's next flagship model.
Other than the camera update, iPhone 5 is expected to boast of quad-core A6 processors, 1GB of RAM, 16/32/64GB of Internal storage and 4G LTE compatibility. Reportedly, Apple will bless iPhone 5 with NFC chip and iWallet app. Rumors are also high that iPhone 5 will sport 4.6-inch display with 720p resolution.
The tech giant may also wave good-bye to 30-pin dock connector and replace it by a high speed compact alternative like micro-dock connector or microUSB v3.0.
(reported by Johnny Wills, edited by Surojit Chatterjee)
© Copyright IBTimes 2023. All rights reserved.