iPhone 6 Frenzy: Chinese Consumers Preorder 1 Million Handsets In 6 Hours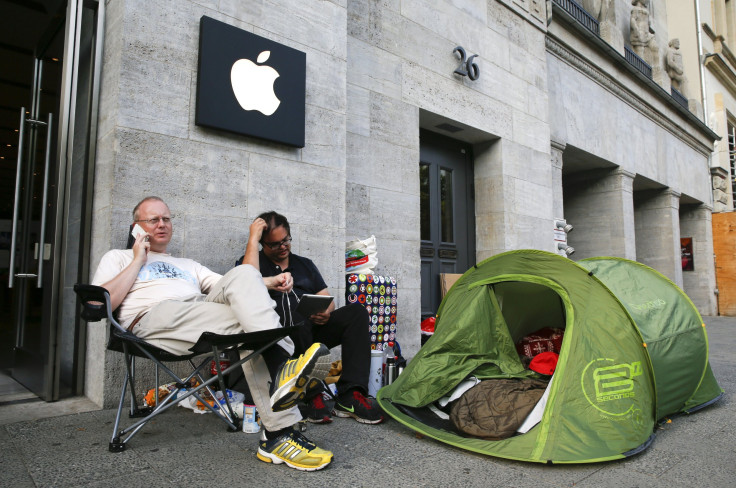 Chinese consumers are ready for the iPhone 6 and 6 Plus. The devices are now available for preorder in China, and consumers that have waited for them for three weeks are voraciously purchasing the handsets before their Oct. 17 release. Reports indicate that official preorders for the iPhone 6 and 6 Plus exceeded 1 million in just six hours of availability on China Mobile, China Telecom and China Unicom.
Apple Inc.'s Chinese website as well as 6,700 authorized resellers have also started accepting preorders for the iPhone 6 and 6 Plus as of Friday, proving that pre-launch demand for the devices is actually turning into considerable sales. Many many consumers will likely purchase the devices in stores on launch day; they will be able to reserve the iPhone 6 and 6 Plus for in-store pick up as of Oct. 14. When Apple confirmed the iPhone 6 launch in China last Tuesday, carriers and retailers began accepting presale reservations for the iPhone 6 and 6 Plus online, which determined that more than 9 million Chinese consumers were interested in purchasing the devices.
But demand for the iPhone 6 and 6 Plus was apparent in China well before the devices were announced. A black market for the iPhone 6 and iPhone 6 Plus surfaced immediately after the devices' global launch on Sept. 19. Handsets were being shipped to China in Twinkie packages, toothpaste boxes and coffee tins while awaiting regulatory approval from Beijing authorities, according to reports. Consumers were paying over $3,000 per-handset to get the iPhone 6 and 6 Plus early. But Chinese Apple enthusiasts now have only one more week to wait for their new Apple smartphones.
"We are thrilled to bring iPhone 6 and iPhone 6 Plus to our customers in China on all three carriers at launch," said Apple CEO Tim Cook in a press release.
Carriers will have them in gold, silver or space gray with either 16GB, 64GB or 128GB of storage. Prices for the iPhone 6 start at 5,288 yuan ($861), while prices for the iPhone 6 Plus begin at 6,088 yuan ($991).
The iPhone 6 and 6 Plus have already sold over 10 million units globally since being launched Sept. 19. Five million preorders were taken across nine major markets, including the U.S. and U.K., during the first 24 hours of presales.
The iPhone 6 family is now expected to mark Apple's most successful smartphone launch. Analysts predict that the Cupertino, California-based company will sell between 70 million and 80 million iPhone 6 and iPhone 6 Plus models before the year ends.
© Copyright IBTimes 2023. All rights reserved.