iPhone 6, iWatch: Everything We Know About Apple's Upcoming Smartphone And Wearable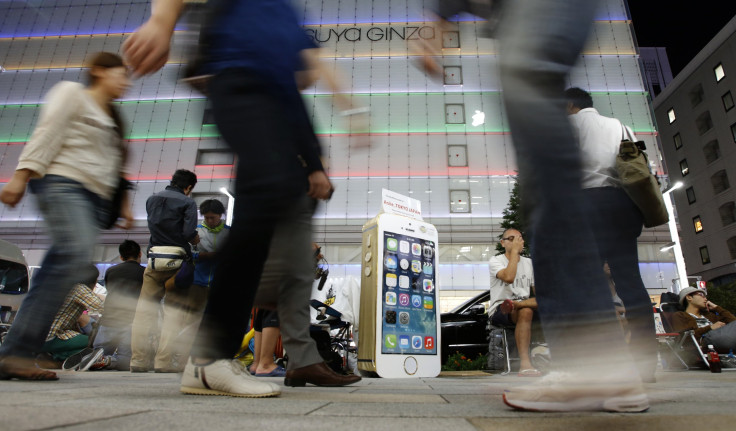 The stage is set for Apple's (NASDAQ:AAPL) Tuesday media event where it is expected to unveil two larger iPhone 6 models and a new wearable device that observers have dubbed, iWatch. Apple is already manufacturing the iPhones in China, and that has led to a steady stream of part leaks that have given us a good sense of what the devices are all about.
Mass production has likely not started on the iWatch, so details are a bit thinner. Reports suggest the iWatch will be unveiled, but not ready for consumers until 2015.
Of course, none of this is confirmed by Apple itself, but safe to say it is what the market is expecting from Apple. Here's what we're looking for:
iPhone 6
Two Sizes: The iPhone is about to get larger on Tuesday. Several part photos have confirmed that Apple is preparing to unveil two new iPhones, the 4.7-inch iPhone 6 and the 5.5-inch iPhone 6L. A new UI design was reportedly necessary to allow users to continue using the iPhone with one hand.
Storage: KGI Securities' Ming-Chi Kuo's research note has indicated that Apple plans to unveil the iPhone 6 with a larger capacity option at 128GB. Currently, iPhones are only available in storage sizes up to 64GB.
Processor: Apple's 2GHz A8 processor is expected to power the iPhone 6 and 6L. Logic boards of the upcoming iPhones have leaked, revealing the processor, which may contain 1GB of RAM. While not much is known about additional features within the A8, Daring Fireball's John Gruber suggests that Apple may have developed a new Secure Enclave for the processor to store credit card data. The company currently uses Secure Enclave technology to safely store fingerprints within the iPhone 5S' A7 processor.
Mobile Payments: The biggest push from Apple will likely come in the form of a new mobile payment initiative. Visa, (NYSE:V), American Express (NYSE:AXP) and MasterCard (NYSE:MA) have reportedly partnered with Apple for the launch of this platform, which some are calling iWallet.
Battery: The 4.7-inch iPhone 6 is expected to sport an 1,810 mAh battery while the 5.5-inch may have a larger 2,915 mAh battery pack, nearly double the battery of the iPhone 5S.
Screen: A sapphire screen cover is among the most highly anticipated features of Apple's iPhone 6. But reports have gone back and forth on whether or not the feature would make it into the upcoming larger iPhones, making this feature harder to pin down. The latest research note from Kuo indicates that the iPhone 6 models may not have any sapphire display covers at all, but this is far from confirmed at this point.
The feature had largely been rumored after Apple announced its partnership last year with Merrimack, New Hampshire-based crystal manufacturer GT Advanced Technology Inc. (NASDAQ:GTAT) to build and operate a sapphire manufacturing facility in Mesa, Arizona. Sapphire is currently used on the iPhone 5S Touch ID fingerprint sensor and the rear-camera lens cover.
Camera: The iPhone's eye is also expected to get an upgrade in the form of a new 13MP Sony (NYSE:SNE) camera sensor. The 5.5-inch iPhone 6L is also expected to get an optical upgrade by way of a rear camera with optical image stabilization or OIS, which reduces the blurriness in photos.
Operating System: Apple's iOS 8 is expected to be installed on the iPhone 6 with a number of newhealth and fitness features, along with an upgraded passbook which supports Apple's mobile payment platform.
Price: Analysts believe the iPhone 6 models may start around $199-299 with a two-year contract and $700 unsubsidized and unlocked.
iWatch
Two Sizes: Kuo has indicated that the company's rumored wearable device, the iWatch will also be released in two sizes: a 1.3-inch and 1.5-inch model in a variety of colors, including a Gold option.
Storage: While the iWatch isn't expected to see such storage options, reports indicate that it may come with 8GB of storage.
Processor: Specifics on Apple's iWatch processor are still hard to come by, but a report from the New York Times indicates that it will have a processor the size of a postage stamp to power the device. The wearable device is also expected to sport 512MB of RAM.
Mobile Payments: Both the iPhone 6 and iWatch are expected to come with near-field communication or NFC technology to enable mobile wireless payments through the devices, which will rival Google's (NASDAQ:GOOGL) own payment system, Google Wallet.
Battery: It's currently unknown how large the iWatch battery will be. However, reports indicate that its battery life could be disappointing.
Screen: No word on if sapphire will make it into the iWatch as well, but reports indicate that it may sport a flexible AMOLED display.
Operating System: It's not yet known if the iWatch will run iOS 8 or a new derivative operating system, but it is expected to sport a number of health and fitness sensors that will integrate with the iPhone's Health app.
Price: Pricing for Apple's new wearable device has yet to be finalized. But the company has reportedly considered prices as high as $400 for the iWatch, according to Re/Code.
Release Date
The iPhone 6, 6L and the iWatch are expected to be unveiled on Tuesday at Apple's media event. But the devices may not go on sale at the same time. The 4.7-inch iPhone 6 is expected to be sold ten days after the media event, on Sept. 19. The 5.5-inch iPhone 6L may follow a month after, while those looking to get their hands on the iWatch may have to wait until 2015 to purchase the highly anticipated wearable device.
If you're planning to get in line for the iPhone, you should be in good company as some Apple fans have begun waiting outside of New York's Fifth Avenue Apple Store in anticipation for the smartphone.
© Copyright IBTimes 2022. All rights reserved.
FOLLOW MORE IBT NEWS ON THE BELOW CHANNELS