ISIS Attacks Egypt? Sheikh Zuweid Military Assault Signals Islamic State Group's Growing Influence In North Africa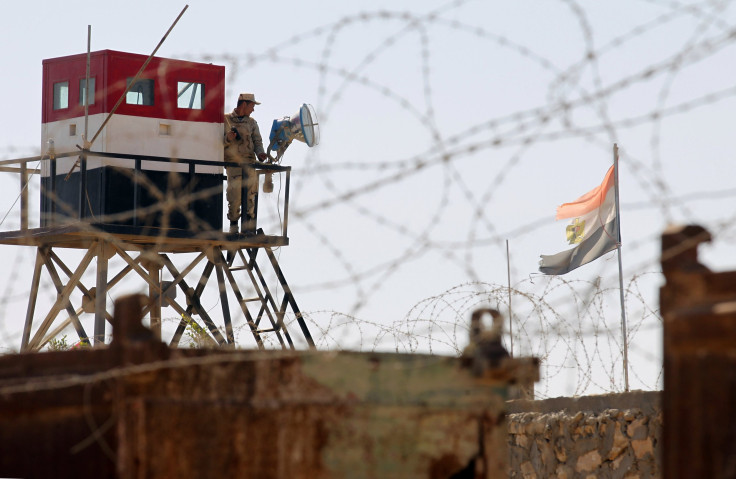 A series of coordinated attacks in Egypt's northern Sinai city of Sheikh Zuweid has left up to 50 people dead amid growing concern over the Islamic State group's (ISIS) spread in North Africa, military and security officials said. The group, "State of Sinai," which has pledged allegiance to ISIS, took responsibility for the attacks on social media.
The assault began Wednesday morning when militants launched a coordinated series of attacks against military checkpoints and posts and detonated suicide bombs. The militants cut off streets leading to the city's police station, bombed government posts and checkpoints and stationed themselves throughout the city, media reports said. The attack came just one day after Egypt's president pledged to broaden his government's crackdown on Islamic militant groups operating out of the peninsula.
Egyptian military F-17 jets bombarded ISIS targets in the Sinai following the attacks, the Daily Star reported. A journalist based in Sinai, Mostafa Singer, told Daily News Egypt that the city was out of the control of Egyptian security forces, and ISIS released a statement announcing they had seized parts of Sheikh Zuweid, according to the Guardian. "We have total control of many sites and have seized what was in them," the statement read.
A policeman denied that the city was under the group's control, a Twitter account with the handle @EgyptianStreets said, citing Daily News Egypt. He admitted, however, that ISIS had effectively laid siege to the city.
ISIS sympathizers and affiliates have recently taken responsibility for attacks elsewhere in North Africa, including in Tunisia, where more than 30 were killed at a beach resort June 26, and Libya, where a group proclaiming allegiance to ISIS executed 21 Egyptian Christians on video in February.
In January, the same group responsible for Wednesday's assault launched a series of attacks which resulted in more than 40 deaths. Similarly, in October 2014, the group executed an attack that led to 30 deaths. The city of Sheikh Zuweid was a target in both assaults.
The attacks highlight growing security concerns in Egypt, where Islamic militant attacks have surged following the military's ousting of Mohammed Morsi in July 2013, amid widescale street protests against the democratically elected Muslim Brotherhood president. Last month, Egypt's court sentenced the former leader to death, a move the U.S. called "deeply troubling."
The sentence was followed by thousands of mass death sentences and arrests that have been handed down against Islamic extremists and government opponents under President Abdel-Fattah el-Sisi, the country's former military chief, who became Egypt's president last year and has established himself as hard-handed against terror.
On Monday, the country's top prosecutor was assassinated in the capital, Cairo, by unknown assailants, in an attack that may have been linked to anger over Morsi's death sentence. Israel has closed its border with Egypt amid security concerns, and the Israel Defense Forces said they were closely monitoring the border, according to the Jerusalem Post.
© Copyright IBTimes 2023. All rights reserved.