ISIS Burns Musical Instruments: Islamic State Fighters In Libya Call Drums 'Un-Islamic'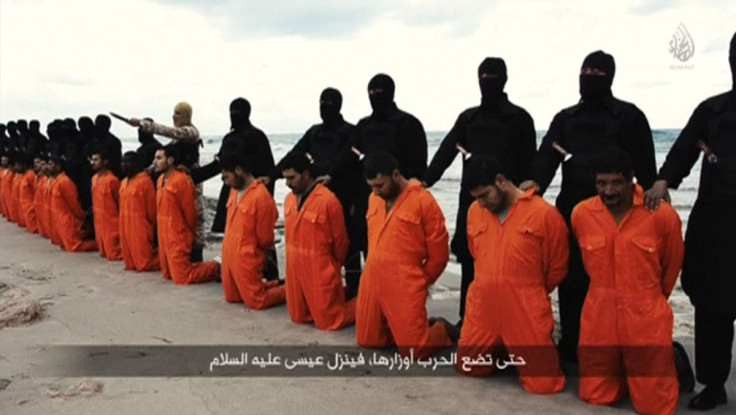 The Islamic State has demonstrated its appetite for death and destruction many times over, including this past weekend's lethal rampage in Libya where the militant group released a video showing the purported beheading of 21 Coptic Christians. The group also known as ISIS reportedly has now taken a decidedly different approach for its offensive – by destroying musical instruments.
Photos of ISIS in the Libyan city of Derna have emerged showing members of the group standing around a burning heap of drums, an undertaking that the group says does not jibe with Islamic law and tradition. The photos were accompanied by a message that read in part: "Hesbah seized these un-Islamic musical instruments in the state of Warqa (we call it the city of Derna)," the Daily Mail reported. Hesbah is a term for Islamic religious police.
Additional images released show dozens of other instruments, mostly drums, strewn in a field that were likely set to be burned, as well. The Daily Mail report adds that recent unrelated video footage exists of police beating a musician for playing an "un-Islamic" keyboard that was "offensive to Muslims."
A New York Times blog post from earlier this month addressed the issue of music and musical instruments in Islamic society and the Muslim musicians who "are facing censure from conservative scholars and from militants." According to Akhtarul Wasey, a professor and director of the Zakir Husain Institute of Islamic Studies at Jamia Millia Islamia University, in New Delhi, certain Islamic leaders consider music to be on par with "lust" and compromises the "religious responsibilities" of those who partake in the pastime. "For a religious leader, whether it's listening to or learning music, it's not permissible inside or outside your house," Wasey told the Times. "The overwhelming majority of Islamic scholars are against music."
ISIS already has declared war on cigarette smokers and cell phones users, punishing them with death by beheading and cutting off limbs.
ISIS has recently expanded its carnage from Syria and Iraq to areas of North Africa, including Libya and Egypt, which joined France on Monday in calling for an emergency United Nations Security Council meeting over the presence of the Islamic State in Libya.
© Copyright IBTimes 2022. All rights reserved.
FOLLOW MORE IBT NEWS ON THE BELOW CHANNELS