ISIS Has $1B Worth Of US Humvee Armored Vehicles; One Was Used In Monday's Suicide Bombing Near Baghdad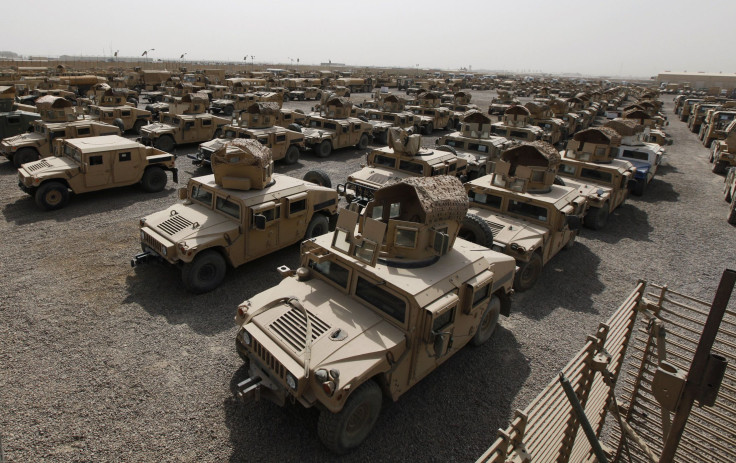 As Islamic State group fighters pillage their way across swaths of Syria and Iraq, they've managed to build up their military capability by commandeering U.S.-made Humvee armored vehicles, including one used Monday in a suicide bombing at an army base near Baghdad that killed at least 45 people. In an interview on Iraqiya TV, Iraqi Prime Minister Haider al-Abadi said ISIS gained thousands of Humvees when it overran the northern city of Mosul on June 10 of last year.
"In the collapse of Mosul, we lost a lot of weapons," Abbadi said an interview Sunday, as translated by Al-Jazeera. "We lost 2,300 Humvees in Mosul alone."
The theft of a fleet of American-made military vehicles underscores the difficulty of ensuring that U.S. military aid doesn't wind up in the hands of the enemy it's aimed at defeating.
The vehicles taken from Mosul would have been worth more than $1 billion if sold new. Late last year, the U.S. State Department approved a deal to sell Iraq 175 M1A1 Abrams tanks, worth $12.4 billion, and 1,000 military Humvees, valued at $579 million. Congress has yet to approve the sale, and some lawmakers have expressed concern about the hardware falling into enemy hands.
The High Mobility Multipurpose Wheeled Vehicle (HMMWV), or military Humvee, is made by Indiana-based heavy vehicle manufacturer AM General. The Humvees stolen from Mosul probably were part of the large amount hardware the U.S. left behind in Iraq after U.S. forces began pulling out in 2009.

Militants like ISIS generally rely on civilian vehicles like Toyota's Hilux and Land Cruiser trucks. These stolen Humvees are much sturdier and can be used as lead vehicles in attacks like the one that took place on Monday against Iraq security forces at a base near the capital. The attack involved three explosives-laden car bombs escorted by one of the stolen Humvees, according to the BBC.
© Copyright IBTimes 2023. All rights reserved.
FOLLOW MORE IBT NEWS ON THE BELOW CHANNELS