ISS Whizzes Past The Sun In Stunning Footage Captured By Astrophotographer
KEY POINTS
The features of the ISS are quite clearly seen against the brightness of the Sun
One of the sunspots is so massive it "could swallow the Earth"
Two astronauts were conducting a spacewalk at the time the footage was captured
A French astrophotographer has captured stunning footage of the moment the International Space Station (ISS) passed the Sun, even including three massive sunspots.
Capturing the ISS from the Earth is no easy feat. For astrophotographer Thierry Legault, it entailed driving for six hours to the Netherlands just to get the right shot.
Legault, indeed, got the shot he needed on June 9 and perhaps even more. In a Facebook post, he shared the stunning footage he captured, showing the ISS barreling through space with the Sun behind it.
The real-time footage shows just how fast the ISS whizzed past the Sun — the ISS is actually quite fast, traveling with speeds of 17,500 miles per hour (28,000 kilometers per hour).
However, he also shared a slowed-down and more close-up version, where one can see the details of the ISS quite clearly against the brightness of the Sun.
He also captured "photobombers" of the ISS in the form of three sunspots. One of them is so massive that it "could swallow the Earth," according to Legault.
To be clear, however, the ISS and the Sun only appear close to each other. In reality, the ISS is actually far away from it, orbiting on average just 227 nautical miles (420 kilometers) above the Earth.
What makes the footage even more interesting is that Flight Engineers Steve Bowen and Woody Hoburg were conducting a spacewalk to install a new set of solar panels when it was captured. The transit happened about an hour after the spacewalk started, Legault explained.
It's quite fascinating to think that actions such as the ones in the footage below were going on as the ISS sped through space.
Such images put into perspective the ISS' movements in orbit.
In 2021, for instance, European Space Agency astronaut Thomas Pesquet shared a rather special view, this time from the ISS itself. In it, the path of lights from the Earth behind it shows just how fast it is moving.
Those interested may see more of Legault's astrophotography through his social media accounts or via his website, where one may also see his other photographs of the ISS, among others.
Meanwhile, those who may have been inspired to spot the ISS themselves may check NASA's Spot The Station tool for ISS sighting opportunities in their area. The ISS can be visible with bare eyes, according to the Kennedy Space Center. One needs only to know when it will pass their area at the time when it can be visible.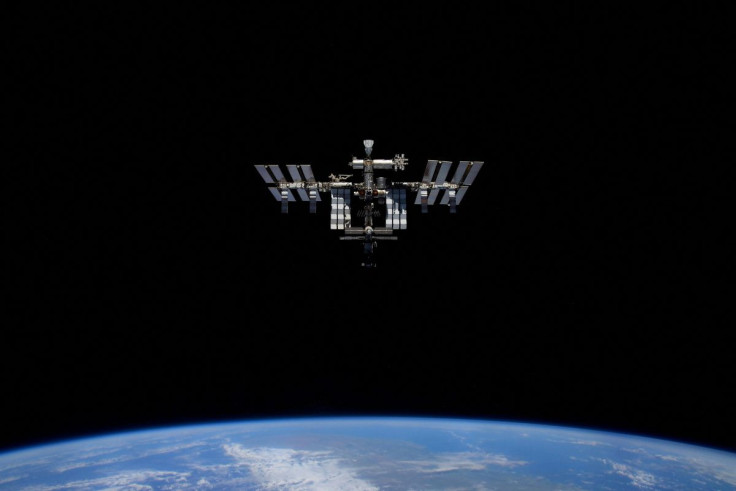 © Copyright IBTimes 2023. All rights reserved.