Ivanka Trump, Jared Kushner Purchase $30 Million Lot On Miami's High-Security Island
KEY POINTS
Ivanka Trump and Jared Kushner purchased a $30 million lot in Billionaire's Bunker
The former owner of the lot Ivanka and Jared purchased was Latin singer Julio Iglesias
The first daughter and her husband had been looking for a new home prior their recent purchase
Ivanka Trump and Jared Kushner shed millions for a high-security island in Miami.
Ivanka and Jared splashed over $30 million for a lot they purchased on Miami's high-security Indian Creek island, which is also known as "Billionaire's Bunker," Page Six reported.
Weeks before President Donald Trump's exit from the White House, the first daughter and her husband have been busy planning their lives ahead after D.C. They have been looking at numerous properties and several lots in Miami and Palm Beach area, the report noted.
Ivanka and Jared are believed to have purchased Lot 4 of the private, guarded and gated Indian Creek island. The area is considered as one of the most secure places in Florida with 13-man police for only 29 residences. The outlet noted that the previous owner of the lot Ivanka and Jared purchased was Spanish singer-songwriter Julio Iglesias. The sale closes on Dec. 17, an insider told Page Six.
The lot measures 1.84 acres with 200 feet of private waterfront. It was put on sale at $31.8 million with $474,764 taxes per year.
The location is perfect for the couple because Indian Creek is only over an hour drive from Trump's Mar-a-Lago club. Also, Jared's younger brother, Joshua, and his supermodel wife, Karlie Kloss, just bought a $22 million mansion in Miami. So their new home would be close to their families.
Ivanka and Jared had been hunting for a new house in Florida because many of their friends have already moved out from New York City to Florida and the Hamptons, according to a tipster.
"The Kushners have been looking to purchase property in Florida for quite some time, and will also maintain their home in New York," the source said.
The current and former residents of Indian Creek island include car dealership billionaire Norman Braman, tech entrepreneur Robert Diener, hedge fund billionaire Edward Lambert, and retired football coach for the Miami Dolphins Don Shula, Forbes reported. Mutual fund billionaire Charles Johnston, supermodel Adriana Lima, real estate entrepreneur Alex Meruelo and Geert-Jan Bakker, chief executive of Dutch company Bakker Magnetics, also live on the island.
In related news, Ivanka was deposed in a case involving misused funds for the inauguration four years ago. Alan Garten, general counsel for the Trump Organization, distanced Ivanka from the allegations because her only involvement was connecting the parties and instructing the hotel to charge a "fair market rate," which the hotel did.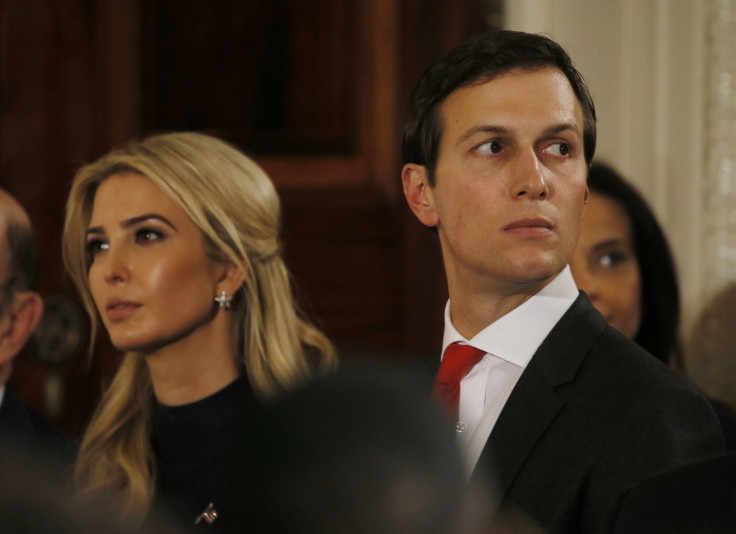 © Copyright IBTimes 2023. All rights reserved.