Ivanka Trump, Jared Kushner 'Settling Into Normal Life' In Florida: Report
KEY POINTS
Ivanka Trump and her husband Jared Kushner are "really enjoying" life in Surfside, Florida, a report says
Trump reportedly has been pursuing a sportier lifestyle in the town, including surfing and playing tennis and golf
Kushner reportedly has been able to devote more time to his family
Ivanka Trump and Jared Kushner are leading low-key lives in their new home in Florida following their time in the White House.
Trump and Kushner ⁠— along with their three children Arabella, 10, Joseph, 8, and Theodore, 5 ⁠— are "settling into normal life and really enjoying" their time at Surfside, a tiny Miami-area town with a population of 6,000 that has been dubbed "Miami's Uptown Beachtown," People reported, citing an unnamed Kushner friend.
With the warmer weather and more downtime in her schedule, Trump has been pursuing a sportier lifestyle, which includes surfing off the town's beaches and playing tennis and golf.
Kushner, for his part, has been able to devote more time to his family.
"Jared's spending a lot more time with his family because over the last four years that was something neither of them could do as much as they wanted to," the source told the outlet, adding, "Jared will say, 'The nice thing about Miami is the moment you stop working, you're on vacation.'"
Since moving to Florida, the couple has often been spotted going on runs in their neighborhood and hitting the beach with their kids.
Last year, Trump celebrated Mother's Day by taking Arabella, Joseph and Theodore to the beach for a private surfing lesson. She was also seen kissing her husband during their family's water park outing in October 2021.
While they've been staying out of the public eye for the most part, Kushner and Trump have attended Art Basel, and at one high-end event, sat next to Pharrell Williams, an unnamed friend of the couple told People. The pair also had dinner with Pitbull, according to the insider.
In addition, Kushner and his wife dined at Miami eatery Carbone with restaurateur Jeff Zalaznick, the insider said. Trump also celebrated her 40th birthday in October last year in Surfside with her Miami social circle and 20 girlfriends who flew in from New York.
Surfside Mayor Charles Burkett, who met the family while they picked pumpkins at the town's Spooktacular last October, told Washingtonian magazine that the most "striking thing" about his encounter with Kushner's family was that "they were like anybody else and blended in with the crowd."
"They're not just here passing through," Burkett added. "I believe they want to make this a big part of their life, this part of the state of Florida generally, specifically Surfside."
One Surfside resident also shared her encounter with Trump last summer, telling Washingtonian that she met the former White House senior advisor while she was heading to the beach with her daughter Arabella and their dog Winter, believed to be a Pomeranian mix.
The unnamed resident, who was described as "a beach activist," said she warned Trump that dogs were not allowed on the beach before realizing the woman she was talking to was the former first daughter.
Town commissioner Eliana Salzhauer suggested that Kushner and Trump may have chosen Surfside as their new home because it's "like a warm version of New York" and had "the same pace, the same driving, the same kind of brusque attitude about things" as the state where the couple used to live.
"It's the same people, but it's warmer, so everyone's a little happier because everybody's not freezing their a--es off and having to dig their cars out of the snow," said Salzhauer.
She also pointed out the two synagogues in town, including Orthodox Young Israel, where Trump and Kushner, who are Jewish, have been spotted leaving Shabbat services on foot.
"Everybody wants to live within walking distance, if you're Orthodox, to the temple," Salzhauer said.
However, Kushner and Trump likely won't stay in Surfside for long as the family plans to move into a multimillion-dollar home on nearby Indian Creek Island in the fall, People noted.
The island reportedly offers the couple more privacy and security as it has a guarded entrance, private police force and less than three dozen waterfront homes and is only accessible by yacht or by using a footbridge that connects it to Surfside.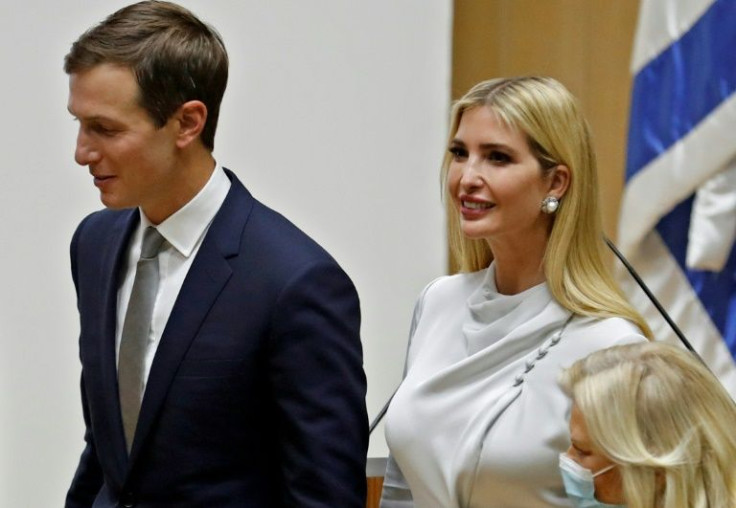 © Copyright IBTimes 2023. All rights reserved.