Jailed For Not Shoveling Your Sidewalk? That's The Law In New York (On Paper, At Least)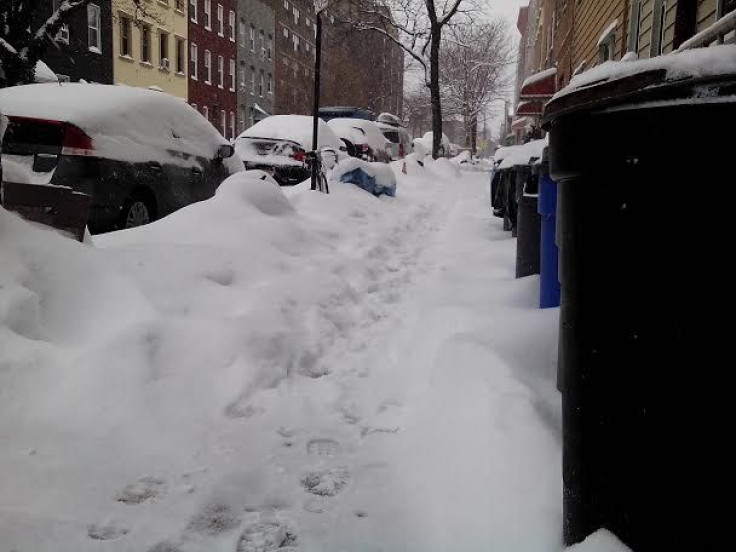 Millions of New Yorkers who woke up this morning and groaned when they saw snowflakes falling from the sky yet again have another reason to complain: They could go to jail for not shoveling their sidewalk.
That's right. Snow-weary New Yorkers who fail to shovel their sidewalk within four hours after the white stuff stops falling could be fined between $10 and $150 and/or sent to jail for up to 10 days.
At least, that's the law. Tucked away, deep within New York state's mind-numbingly tedious administrative code is a provision that states (emphasis added):
c. Any person violating any provision of, or regulation adopted

pursuant to, subdivisions a and b of this section shall be punished by a

fine of not less than ten dollars nor more than one hundred fifty

dollars, imprisonment for not more than ten days, or both.
Yet, similar to a much-derided regulation that prohibits restaurants in the city from serving water unless a customer asks for it, this rule also seems to be inconsequential. The city will not send you to jail if you don't shovel your sidewalk, says Kimberly Dawkins, a spokesperson for the city's Department of Sanitation. And it never has, according to Dawkins and a search of newspaper databases.
How to punish shovel-resistant New Yorkers has been debated by city officials for almost a century. Back in February 1916, after a series of heavy snowstorms, John T. Fetherston, the commissioner of the Department of Street Cleaning, proposed jailing offenders for two days or fining them $5 if they didn't shovel their walks within three hours of the end of a storm, reported the New York Times. The proposal was strongly opposed by some city lawmakers, including Louis Weldon Jr., who compared it to other ordinances that he claimed were packing the city's jails: "Why, now if you spit you go to jail and you go to jail if you sneeze or carry a lighted cigar. You might as well go to jail at the start and remain there."
But it does assess fines for the oversight. Not surprisingly, with several heavy storms that have blanketed the Northeast in the past seven weeks, this year has been a busy time for ticket agents.
So far, in the first two months of this year, 57 inches of snow have fallen. And the city issues 11,597 summonses related to snow removal across all five boroughs. That amount is more than double the 5,096 issued in all of 2013, when 24 inches of snow fell, and 667 in 2012, when only 7 inches fell.
So far, in just the first two months of 2014, non-shovel-ready New Yorkers have paid more in tickets related to snow removal than in all of 2013. So far in 2014, $251,767.49 has been paid on those tickets, compared to $240,549.62 in 2013, according to the Environmental Control Board, which has conducted 524 hearings on alleged violations.
Another law on the books seems just as impotent when it comes to punishing snow-removal slackers. Though the administrative code states that the city can bill you for shoveling your sidewalk, the Sanitation Department's Dawkins explains that the agency "does not have the resources to implement this. Keep in mind that the Department of Sanitation is mandated to remove snow and ice from 6,300 street miles during a given snowstorm. That is the Department's first priority."
FOR FREE to continue reading
✔️ Unlock the full content of International Business Times UK for free
offer available for a limited time only
✔️ Easily manage your Newsletters subscriptions and save your favourite articles
✔️ No payment method required
Already have an account?
Log in
© Copyright IBTimes 2023. All rights reserved.