Janet Yellen Federal Reserve Announcement: Interest Rates Likely To Rise In December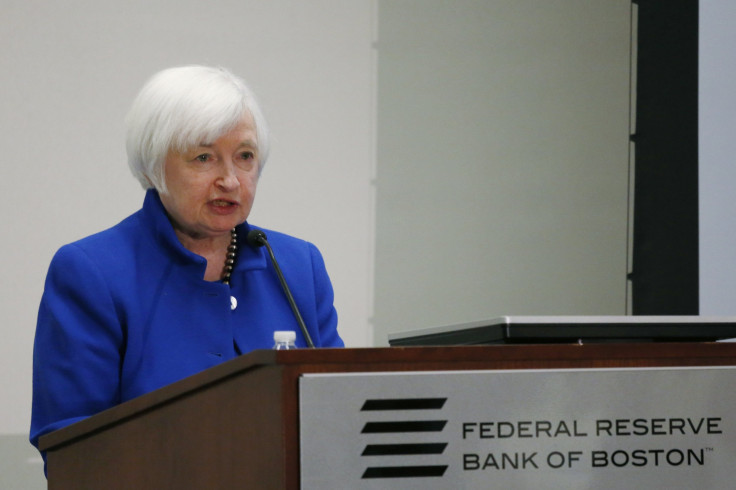 Following the close of one of the Federal Reserve policy arm's yearly meetings, Fed chair Janet Yellen announced Wednesday that the central bank would once again hold off on raising its interest rate target.
The Federal Open Market Committee (FOMC), which determines the target for the interest rate at which banks lend to one another in the short term, is expected to raise its rate target after the group's next meeting, between Dec. 13 and 14. In September, the Fed chose not to raise the rate target for the same reasons it decided to delay the rate hike on Wednesday, opting instead to wait for the American economy to pick up steam before tightening its monetary policy.
Analysts surveyed by the CME group put the probability of the Fed maintaining its current target of 25 to 50 basis points (bps), or 0.25 to 0.5 percent, in December at under 27 percent, with the likelihood of an increase to between 50 and 75 bps following the next meeting at about 69 percent. Futures traders were a bit more evenly divided, with about 61 percent forseeing a rate hike in December and 39 percent expecting the Fed to maintain the status quo, according to Bloomberg.
Yellen herself had already sowed doubts of a November rate hike during an Oct. 14 speech at the Federal Reserve Bank of Boston, when she suggested the benefits of a "high-pressure economy," with low interest rates and a jobless rate below the full employment level, to stimulate what has been a relatively slow recovery. Still, she warned that using low interest rates to foster growth for an extended period could allow inflation to rise beyond desired levels.
"From a policy perspective, we of course need to bear in mind that an accommodative monetary stance, if maintained too long, could have costs that exceed the benefits by increasing the risk of financial instability or undermining price stability," Yellen said.
Whether the Fed decides to raise its target in December will depend on the performance of economic indicators cited in both its September and November post-meeting releases. Oil prices, for instance, a key influence on price levels, have remained around $50, keeping inflation low. As for the job market, the Bureau of Labor Statistics' most recent monthly report revealed meager job growth and a stagnant unemployment rate in September. While the Department of Commerce announced last week that the U.S. economy exhibited its fastest quarterly growth rate in two years, the inflation rate has yet to reach the 2 percent characteristic of Yellen's "high-pressure economy."
© Copyright IBTimes 2022. All rights reserved.
FOLLOW MORE IBT NEWS ON THE BELOW CHANNELS