Japan News: What Donald Trump, Shinzo Abe Will Discuss In Upcoming Meeting At Florida Golf Course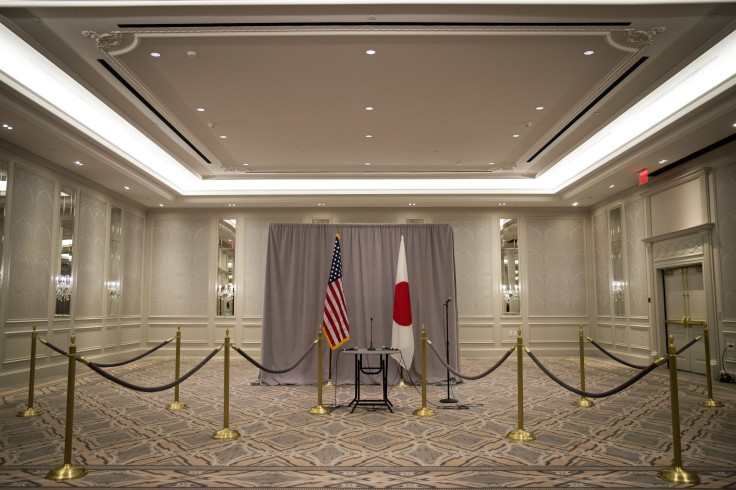 After some recent conflicts in phone conversations with top U.S. allies, President Donald Trump is expected to avoid any new diplomatic problems when he hosts Japan Prime Minister Shinzo Abe at his private Florida resort Mar-a-Largo after their meeting Friday at the White House.
"He's coming to the White House and then he'd like to play golf, and we're going to come down to Florida, Palm Beach, and we're going to play golf," Trump said Sunday in an interview with Westwood One Sports Radio. "We're going to have a round of golf, which is a great thing. That's the one thing about golf -- you get to know somebody better on a golf course than you will over lunch."
After Trump's election victory, Abe presented Trump with a $3,755 Japanese-made Honma golf club in their meeting at Trump Tower in New York.
The two leaders have a great deal to discuss other than tee shots. The meeting is expected to include topics such as trade and currency policy. Trump is expected to seek a bilateral trade deal with Japan after signing an executive order to back out of the 12-nation Trans-Pacific Partnership (TPP).
Trump has claimed Tokyo was deliberately weakening the yen for an unfair trade advantage over the U.S. He also said Japan, along with Germany and China, were guilty of "global freeloading" due to their weak currencies.
"We don't understand what he's talking about," Vice Finance Minister Masatsugu Asakawa said last week.
The Japanese economy remains on a solid track, with the Bank of Japan recently raising its economic growth forecasts. On Jan. 31, the BOJ raised its gross domestic product (GDP) forecast to 1.4 percent for the current fiscal year, from its previous forecast, made in October, of 1.0 percent growth, according to reports.
Trump and Abe may also discuss the potential threat of North Korea, which has continued to expand its missile research.
Abe recently met with Defense Secretary Jim Mattis in Tokyo and came away impressed.
"I was very encouraged," Abe said, "to see someone like you who has substantial experience, both in the military and in security, defense and diplomacy, taking this office."
Abe, one of the longest-serving prime ministers in Japanese history, took office in September 2006. He met with both President George W. Bush and President Barack Obama and shared close ties with both commanders in chief.
© Copyright IBTimes 2023. All rights reserved.