Jared Kushner Is 'An Actual Cuckhold' Breitbart Editor Says To Phony Bannon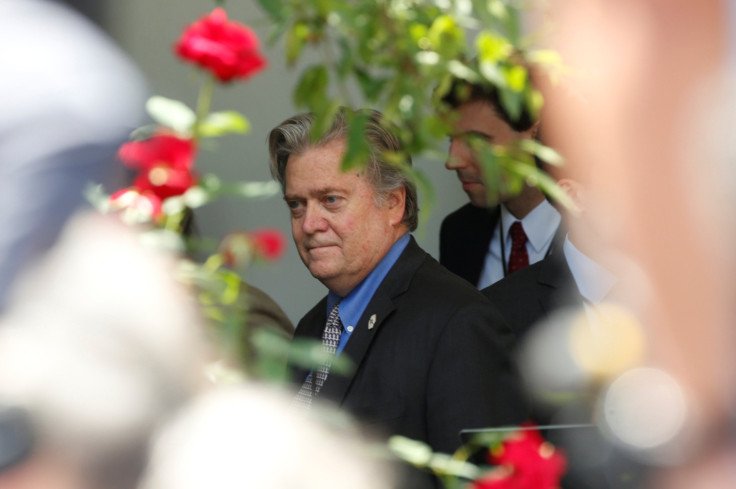 Top editors at Breitbart were fooled by an email prankster claiming to be Steve Bannon, the recently fired White House chief strategist who returned to the website as the executive chairman Friday.
The anonymous prankster tweets under the name @SINON_REBORN, and contacted the editors Sunday. The person released the emails Tuesday.
In the exchange, Breitbart Editor-in-Chief Alex Marlow bragged about the website's harsh coverage of Ivanka Trump and Jared Kushner and hoped that Breitbart's stories would the two would be out of the White House by the end of the year. Ivanka Trump, President Donald Trump's daughter, and her husband Kushner, both advise the president.
Marlow also responded to the fake email by disparaging Kushner.
"Best conspiracy on the whole internet is Jared is an actual cuckhold [sic]," wrote Marlow, intimating that there was infidelity in their marriage.
"The obsession with Breitbart News is simply a result of our effectiveness. This time, an imposter deceitfully obtained and shared with CNN tongue-in-cheek emails that revealed that we feel Globalists present an existential threat to the agenda that got President Trump elected." Marlow told CNN Tuesday. "If people want to know our thinking, they don't need to judge us on illicitly obtained comments that were intended to be private, they can simply read our front page."
Breitbart isn't the first place the prankster has struck. Posing as Kushner, the prankster fooled Homeland Security Adviser Tom Bossert in July.
In the current charade, the fake Bannon began his email chain by praising Breitbart's work.
"Reading online about how I'll be bringing forth my wrath on Ivanka and Jared," read an email sent Sunday to Marlow. "I'd be doing this great nation a service if I did."
Marlow responded offering up his and other editor's services to do "dirty work," for Bannon.
"I spooked em [sic] today," replied Marlow. "Did five stories on globalist takeover positioning you as only hope to stop it. You need to own that, just have surrogates do the dirty work. Boyle, Raheem, me, Tony have been waiting for this."
Marlow is referring to Breitbart Washington editor Matthew Boyle, Breitbart London Editor-in-Chief Raheem Kassam and reporter Tony Lee.
"It all seemed very duplicitous and littered with nuance and righteousness, I don't much care for the Trump administration or Breitbart so I didn't really do much but see what happened," the prankster told CNN, saying they tried the prank because Breitbart was "literally falling over itself to attack those [Bannon] sat drinking coffee with days before."
Before joining Trump's campaign a year ago and riding it into the White House, Bannon served as Breitbart's executive chairman.​
© Copyright IBTimes 2023. All rights reserved.