Jared Leto's Joker Look Revealed For 'Suicide Squad' Movie To Celebrate Character's 75th Anniversary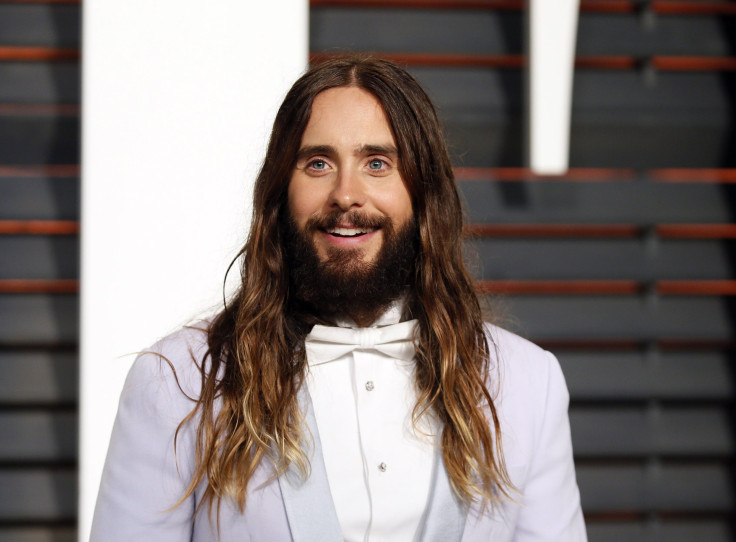 Ever since it was announced that Jared Leto would be the next actor to portray everyone's favorite purple-suited villain, he hasn't been able to leave the house without people taking notice of his evolving look. Now, after months of anticipation, the actor's Joker appearance has been revealed.
The character will appear in the upcoming film from DC Comics and Warner Bros., "Suicide Squad." The photo comes courtesy of the film's director, David Ayer, who tweeted the image to celebrate the 75th anniversary of the Joker's creation. While fans were expecting something unique for Leto's Joker, it's unlikely anyone was quite expecting this.
Gone is the dapper but maniacal suit brought to the screen by Jack Nicholson, as is the disheveled creep that Heath Ledger embodied in "The Dark Knight." It seems Ayer is creating a Joker that leans very heavily on his own insanity. Leto appears in the picture above with pale skin, some kind of metal implants in his teeth and a body that's heavily tattooed. While the new look might surprise some movie fans, Forbes points out that comic book fans will recognize the Joker's new look from some of Frank Miller's "Batman" stories.
Leto's Joker will appear alongside fellow DC Comic villains Deadshot (Will Smith), Amanda Waller (Viola Davis), Enchantress (Cara Delevingne), Captain Boomerang (Jai Courtney) and Rick Flagg (Joel Kinnaman). Together they'll play a cabal of super villains given extremely dangerous tasks by the government in exchange for lighter prison sentences. The cast recently posted a photo at the script's table read, but Leto was not in it. He did share a selfie on Snapchat after he died his hair green for the role. However, with fans clamoring to get an idea of what the latest Joker will look like, nothing had been as concrete as the newly released image.
It's unclear at this time if this is how the character will look in "Suicide Squad" when it hits theaters Aug. 5, 2016, but fans have to hope that he'll eventually don his iconic purple suit – hinted at in the form of a purple surgical glove. "Suicide Squad" will be the dark follow up to "Batman vs. Superman: Dawn of Justice" and will help kick off DC Comic's Cinematic Universe.
© Copyright IBTimes 2023. All rights reserved.