Is Jeb Bush's Campaign Dead? During GOP Debate, Florida Republican Barely Gets To Talk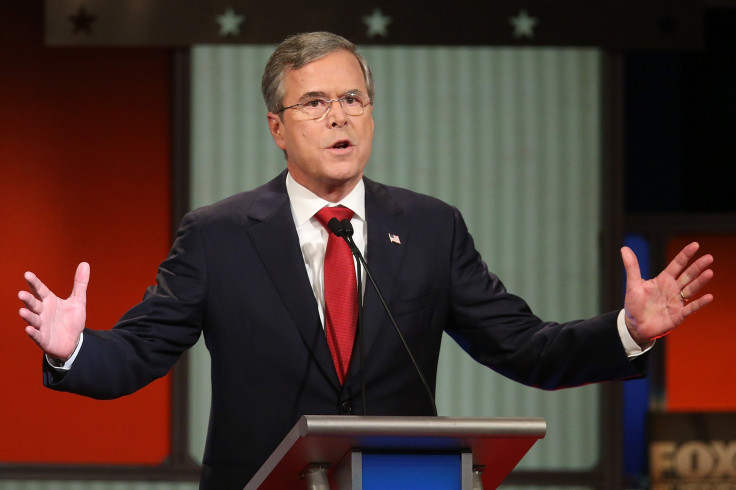 Former Florida Gov. Jeb Bush struggled to get speaking time during Thursday's Republican debate and was consistently slammed by GOP front-runner and real estate mogul Donald Trump. Bush has been sliding in the polls ahead of the Iowa caucus and New Hampshire primaries in February, sparking fears that his campaign is slowing to an end.
"We don't need a weak person being president of the United States," Trump told Bush Thursday, using the type of personal attack he has leaned on in previous debates. Bush was the Republican frontrunner earlier in 2015, garnering sizable contributions from donors, only to slip in the polls throughout most of the second half of the year.
Out of the seven candidates on the main stage, Bush had some of the shortest speaking time, according to figures released by NPR, with only Ohio Gov. John Kasich speaking less than him. At least twice he had to interrupt moderators or candidates to try to address criticisms.
The former Florida governor looked to show his strength by dismissing fellow candidates Sen. Ted Cruz and Sen. Marco Rubio, calling them "back bench senators." Twitter users hit back at Bush, calling him a "back bench candidate."
Bush and Trump are no stranger to sparring onstage, with the former governor calling the candidate out for remarks he said were brash and offensive. "You're never going to be president of the United States by insulting your way to the presidency," Bush told Trump during a CNN debate in December.
In a new campaign ad released Thursday, Bush disparaged Trump's November remarks that appeared to criticize a New York Times reporter with a physical disability. "Just one more thing, I have to get this off my chest. Donald Trump is a jerk." Bush says in the ad. "When anybody disparages people with disabilities, it sets me off," he said.
Bush has been polling solidly in the middle of a crowded GOP field, coming in fifth out of 11 candidates, with 4.7 percent of Republican support, according to the latest data from Real Clear Politics, which takes the average of available polling data.
The former governor has focused on his national security and foreign relations experience in the past in an attempt to distinguish himself from frontrunner Trump, who has never served in public office. Bush has struggled to step out of his brother's shadow, however, often being compared to former President George W. Bush.
© Copyright IBTimes 2023. All rights reserved.