Jeb Bush's Welfare Reform Plan Targets Single Mothers? Conservative Dreams First Pushed In Florida
Jeb Bush has wanted to cut back on federal welfare programs for a long time. As far back as his run for governor of Florida in 1994, the Republican talked about seeking to "dismantle the welfare state" and encouraging poor people to work more.
Now that he's running for president, he gets to discuss these ideas at the national level. Bush released a proposal Friday to reform the nation's welfare system that would eliminate federal food stamps and housing assistance programs, instead giving that money to the states to develop their own programs.
His plan comes just one day before a poverty forum with Republican candidates in South Carolina Saturday. In his continuing effort to show voters that he is a serious candidate with substantive ideas, Bush is taking a hard line on welfare and emphasizing how he would cut down on what he considers waste.
"We have spent trillions of dollars on the 'War on Poverty,' but there are now still more than 46 million Americans living in poverty," Bush said in a statement explaining his plan.
The central focus of his proposal revolves around eliminating what he calls "bloated, outdated" welfare programs. These include the Supplemental Nutritional Assistance Program (SNAP), housing assistance programs like Section 8 Housing Choice Vouchers and Section 8 Project-Based Rental Assistance and a cash program called Temporary Assistance for Needy Families.
Bush would use the money from these programs to give "Right to Rise" grants — or block grants — to states so they could decide how they want to fight poverty. His grants would include work requirements and time limits for able-bodied adults to incentivize Americans on welfare to find jobs. He also talks about aiming to "strengthen families" as a strategy to lift people out of poverty.
The Republican presidential candidate mentioned his time as governor of Florida in his statement laying out the proposal, and many of the ideas he is proposing are things he sought when he was involved in Florida politics in the 1990s and early 2000s.
When he first ran for governor (and lost) in 1994, Bush's campaign was extremely conservative. He sought to dismantle the Department of Education and wanted to refuse federal money for welfare, according to the book "Aggressive Conservatism in Florida," which chronicles his career. "He would have forced mothers and children off welfare after two years, with no provision for job training or childcare beyond the small amount available at the time," wrote the book's author, Robert Crew.
His welfare reform plan then was called the "Phoenix Project," and he told the Miami Herald at the time that its goal was to "dismantle the welfare state and all the culture that comes from it." Under the plan, poor women would have to "identify the fathers of their children, submit to random drug tests and work if jobs were available," the Herald reported at the time.
That plan was reflective of Bush's broader ideas about how families should operate and what poor women should do instead of use welfare. CNN reported that Bush's opponents during his 1994 campaign criticized him over a remark suggesting poor women should get married in order to lift themselves out of poverty.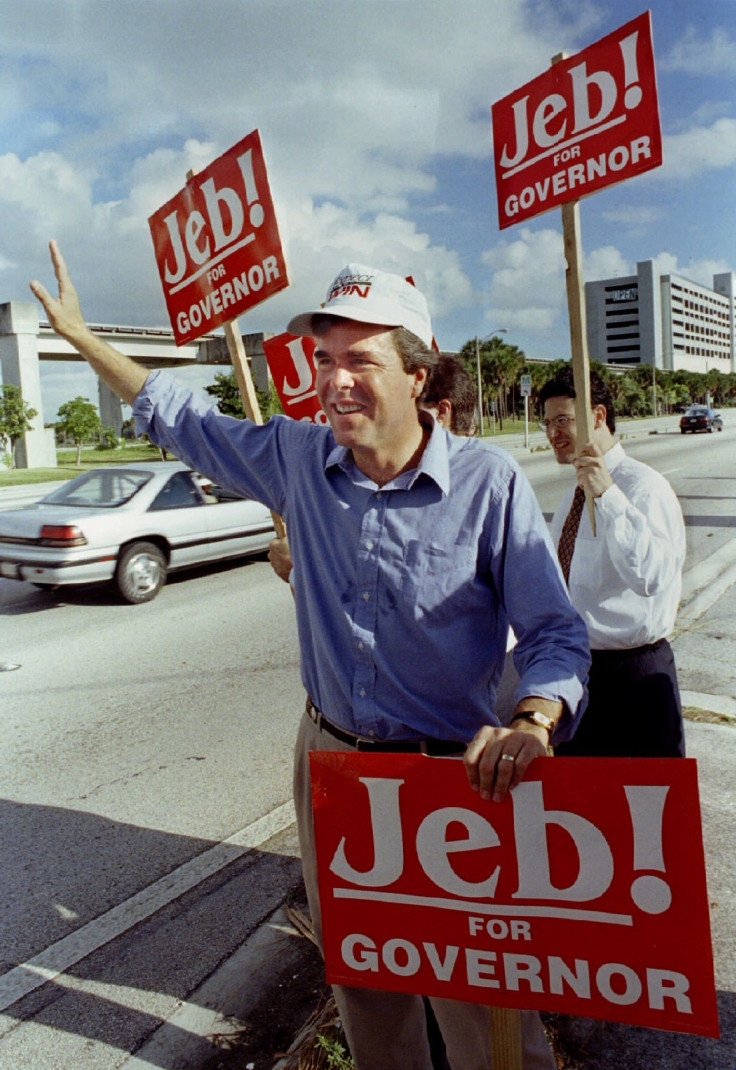 "If people are mentally and physically able to work, they should be able to do so within a two-year period. They should be able to get their life together and find a husband, find a job, find other alternatives in terms of private charity or a combination of all three," Bush said at the time, according to CNN.
When his opponent criticized him, Bush doubled down, saying "How you get on welfare is by not having a husband in the house — let's be honest here."
Although Bush has positioned himself as more of a moderate in the 2016 race, he has made comments this election cycle that do not seem so far from this 1994 rhetoric. In September, Bush sparked controversy when he said at a campaign rally that he sought to appeal to African-American voters with a message of "hope and aspiration" rather than by promising "free stuff." Many activists and people on social media saw this as offensive, and Bush ultimately issued statements trying to clarify his point.
As he struggles in the wide GOP field, Bush has sought ways to distinguish himself from the crowd of other Republican contenders. This new policy proposal might be going back to his conservative roots, but it is unlikely to win him fans among a wider or more diverse audience. Bush was scheduled to hold campaign events in South Carolina Friday and Saturday in addition to the poverty forum this weekend.
© Copyright IBTimes 2022. All rights reserved.
FOLLOW MORE IBT NEWS ON THE BELOW CHANNELS