Jeffrey Toobin Says Masturbating During Zoom Call With Colleagues Was A 'Stupid Mistake'
KEY POINTS
Toobin said he regrets masturbating during a Zoom call attended by numerous colleagues
He and many high-profile guests and producers were meeting virtually for an election simulation
Toobin claims he thought the video function was turned off at the time of incident
Jeffrey Toobin, a chief legal analyst for CNN, admitted he made a "stupid mistake" after he was caught masturbating on a Zoom call with fellow employees at The New Yorker and WNYC radio.
The now-suspended reporter for the magazine said the incident was an unfortuante mistake as he believed the Zoom video was turned off at the time.
"I made an embarrassingly stupid mistake, believing I was off-camera. I apologize to my wife, family, friends, and co-workers. I believed I was not visible on Zoom. I thought no one on the Zoom call could see me. I thought I had muted the Zoom video," Toobin said.
According to VICE, the call was an election simulation that involved many of the New Yorker's top guests and producers from both the paper and WNYC. People with knowledge of the incident said those involved in the Zoom call had just returned from a 10-minute break when Toobin lowered the camera, which captured him touching his penis.
The renowned reporter left the call. Moments later, he called back in but was seemingly unaware that he had accidentally exposed himself. It is unclear who among the attendees saw the incident.
Natalie Raabe, a spokeswoman for The New Yorker, released a statement saying Toobin has been suspended while an investigation is under way. He has been working for the publication for more than 25 years.
CNN has also granted Toobin "some time off" to "deal with personal issues" following the incident. Additionally, his Conde Nast email has also been disabled.
Monday's incident was not the first time Toobin was involved in a personal controversy. In 2008, it was alleged that he fathered a child with Jeff Greenfield's daughter, Casey, while he was married to wife Amy McIntosh.
According to NY Daily News, Toobin offered Casey money for an abortion after she became pregnant. He also cut off all communication with her until after she gave birth to a child named Rory. It was later confirmed via a DNA test that he was Rory's father.
Toobin has authored nine books, including "The Oath: The Obama White House and the Supreme Court" and "Too Close to Call."
He also covered the O.J. Simpson trial in the 1990s. A book he wrote about the event was adapted for television in 2016 as the FX series "The People v. O.J. Simpson: American Crime Story."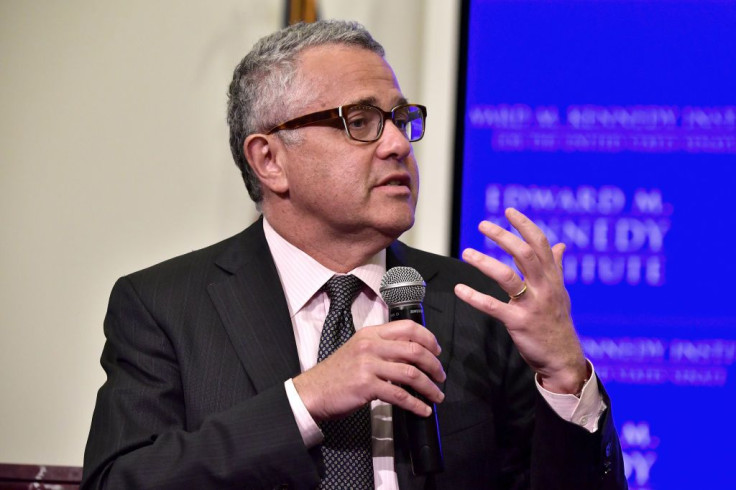 © Copyright IBTimes 2023. All rights reserved.