'Jem And The Holograms' Movie Photo Released; Check Out First Image From 2015 Film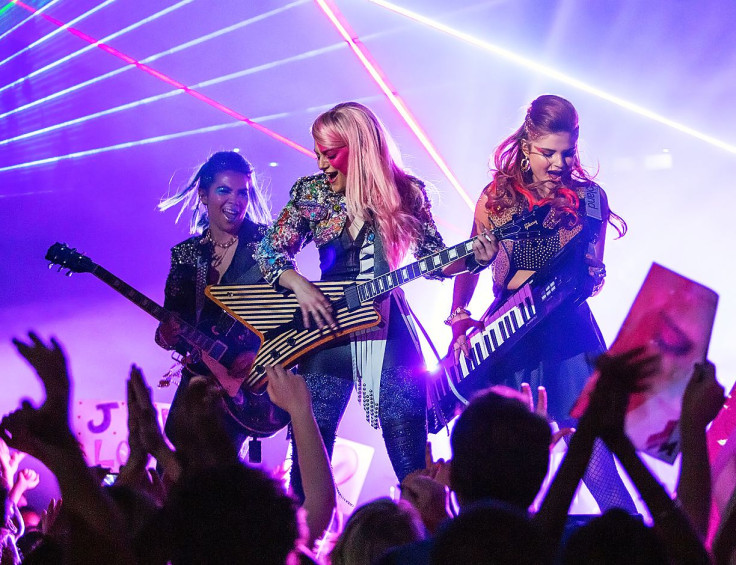 On Thursday, Feb. 26, fans got their first look at the upcoming film "Jem and the Holograms," a musical fantasy flick based on the colorful 1980s animated television series of the same name.
The vibrant still gave audiences a glimpse at just how their favorite Hasbro cartoons would be portrayed on the big screen. Hayley Kiyoko will take on the role of Aja, rocking some stellar blue hair and a guitar, Aubrey Peeples will portray the pale-pink lead singer Jem (aka Jerrica) and Stefanie Scott's character, Kimber, will bring energy to the stage with her hot pink locks and keyboard.
"Nobody will be disappointed with the hair, makeup and the fashion," Peeples promised E! News during an interview last June. "We had a lot of different performance looks, each one is truly outrageous. I look at pictures and I can't believe that's me. It's so weird."
That wasn't all Universal released on Thursday. The studio also released plot details for the live-action flick, which will be released on October 23, 2015:
"As a small-town girl catapults from underground video sensation to global superstar, she and her three sisters begin a one-in-a-million journey of discovering that some talents are too special to keep hidden," the summary states. In the cult-classic TV show, Jerrica would disguise herself at Jem thanks to the help of a holographic computer named Synergy. This would allow her to freely take on the Jem persona with the turn of her earring.
The four aspiring musician will "take the world by storm when they see that the key to creating your own destiny lies in finding your own voice," the synopsis concludes.
In addition to "Jem and the Holograms" being turned into a film, the animated series is also set to become a comic book, which will be released in March. But according to reports, some thrilling changes will be made to the printed series.
"Kimber and Stormer are gay and we're discussing a few others," artist Ross Campbell explained of the modifications being made to the comic during an interview with The Advocate. "Beyond those I'm really hoping to see some more queer characters. It just really needs to happen. I'd love to have some gay Holograms or Misfits fans in the story. That would be awesome. Maybe they could be on the Holograms' street team."
Writer Kelly Thompson agreed, adding that it was "only natural" for a modern version of the series to include additional diversity. "Kimber and Stormer are indeed both out gay characters in the comic and as Tumblr will very excitedly let you know, we're going to be exploring a romantic relationship between the two characters. We have some other plans for LGBTA+ characters as well but it's still early days and we're still figuring out how some things can fit together to tell the best possible story."
Are you looking forward to seeing "Jem and the Holograms" on the big screen and reading the cult-classic series as a comic? Sound off in the comments section below with your thoughts!
© Copyright IBTimes 2022. All rights reserved.
FOLLOW MORE IBT NEWS ON THE BELOW CHANNELS