Jenelle Evans Hospitalized? 'Teen Mom 2' Star Treated For Head Injury After Hurricane Joaquin: Report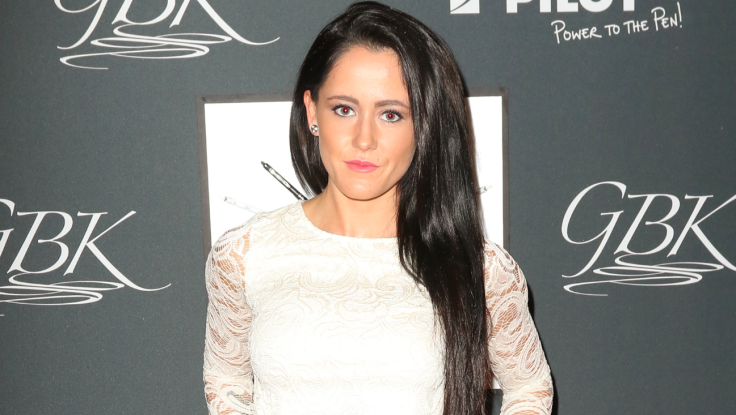 One of the places Hurricane Joaquin brought torrential rain was North Carolina, the state "Teen Mom 2" star Jenelle Evans calls home. The mother of two reportedly slipped in her driveway after water flooded the streets, Radar Online wrote in an exclusive report Monday.
She hurt her head, "busted her knee open" and hurt her chin, a source told the outlet. "The whole reason Jenelle fell and slipped was because of the bad weather and her entire street was flooded."
The accident happened Saturday night. "Jenelle was going out to dinner with her boyfriend David and friend Tori, and when she got home, everything was flooded on her street and she slipped and fell on the driveway getting out of the car," an insider said.
Evans needed stitches for her chin. Radar Online shared graphic photos of her injury. She is recovering after she was released from the hospital Sunday morning, but is "tired and in pain."
The MTV reality star, 23, has not commented on the Radar Online story, but she retweeted it Monday. She also wrote she joined the "busted iPhone #TeenMom2 team," which could be a reference to breaking her phone after she slipped in her driveway.
She also shared a photo of her street showing the flooding brought by Hurricane Joaquin. "My street yesterday late afternoon," she captioned the photo Monday. "Schools are [definitely] closed today!"
In August, Evans broke up with her ex-fiancé, Nathan Griffith, who is the father of her 15-month-old son, Kaiser. She supposedly has rebounded with a new boyfriend, David Easton, but has not confirmed their relationship. She is still fighting her mother, Barbara Evans, for custody of her other son, Jace, 6.
Follow me on Twitter @mariamzzarella
© Copyright IBTimes 2023. All rights reserved.