Jenelle Evans Secretly Married David Eason? 'Teen Mom 2' Star Explains Wedding Ring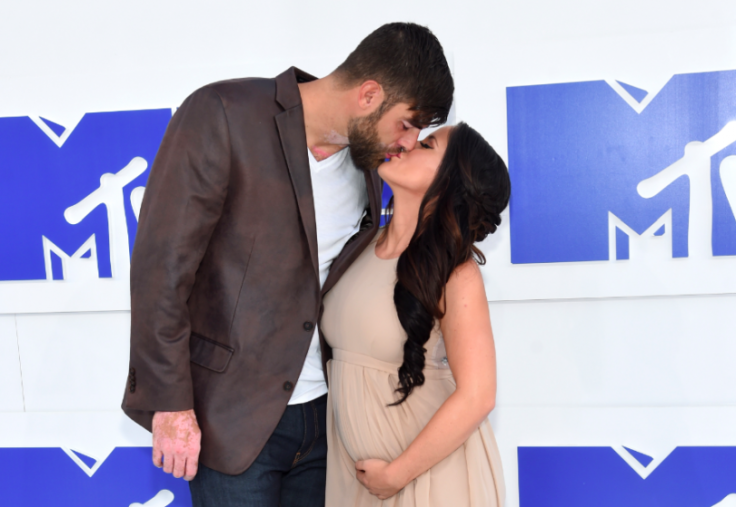 "Teen Mom 2" star Jenelle Evans isn't married, yet, but confused fans Monday when she posted a picture of fiancé David Eason wearing a wedding ring on Instagram. He cradled their daughter, Ensley Jolie, but fans were suspicious about the jewelry sparkling on that finger.
"They brighten up my days," she captioned the picture, which featured her son, Kaiser, who she had from a previous relationship with ex-boyfriend Nathan Griffith. She added the hashtags: "baby love," "family" and "daddy's girl." The post was liked more than 86,000 times by her 2.5 million followers.
READ: 'Teen Mom 2' Star Jenelle Evans Responds To David Eason Breakup Rumors
The only child missing from the picture was on her oldest son, 7-year-old Jace. Her mother, Barbara Evans, has custody of him.
Evans, 25, denied rumors they were secretly married. She reasoned Eason was "starting a new trend," according to Radar Online.
"Before we have our wedding and get married, I got him an engagement ring," she told the publication Monday. "His other one is at the store until our wedding."
She further denied the marriage rumors by saying she was planning on getting married in the fall. "Time to set a wedding date soon #Fall2017," she tweeted the same day.
The couple moved into their new home with Ensley and Kasier. She shared a picture of the North Carolina house. "Cannot wait to start another new chapter with you and our family! After about 8 months of hard work clearing land, getting stung by bees, blistering up our hands, etc.... our #ForeverHome is finally here!!!!" she wrote in a Monday post. "Still a lot more work to do on the inside and out but glad we decided to make this big decision and couldn't be any happier."
While Evans was happy to talk about her family and new home, she didn't want to discuss "Teen Mom 3" star Briana DeJesus joining the cast of "Teen Mom 2." "Teen Mom 3" was canceled after the first season, but "Teen Mom 2" has aired on MTV for 7 seasons.
"I'm not commenting on it at all," she exclusively told The Dirty.com Monday. "MTV wanted me to film about it and I even told them no."
Follow me on Twitter @mariamzzarella
© Copyright IBTimes 2023. All rights reserved.