Jennifer Aniston, Brad Pitt Going Public, Sending A 'Clear Message' About Their Deep Love
KEY POINTS
Jennifer Aniston and Brad Pitt are reportedly going public
Jennifer Aniston and Brad Pitt's sweet reunion at the SAG Awards
Jennifer Aniston's reaction to Brad Pitt and Angelina Jolie's split
Jennifer Aniston and Brad Pitt are reportedly going public.
A few weeks back, Aniston and Pitt gave their fans a pleasant surprise when they were photographed having a sweet moment at the SAG Awards. They were pictured gazing at each other's eyes and holding hands which sparked rumors that they were back together especially since the "Murder Mystery" star seemed to be wearing an engagement ring.
A source revealed that the alleged couple is buzzing to go public with their relationship and they had "zero regrets" about the incident because they were actually sending a clear message about their love for each other.
"They wanted to send a clear message: they love each other very deeply, and this new connection they share is growing stronger all the time," the insider told Heat magazine.
"It has taken them both a long time to pluck up the courage to be pictured together like this and now it has happened they can take things to the next level."
The publication added that Aniston and Pitt's relationship has become so intense that the "Cake" star has "thrown caution to the wind" and "doesn't care who knows about it."
However, one should take the report with a grain of salt because an insider told Daily Mail that there was no truth to claims that they are back together. The two are reportedly just friends. Pitt and Aniston's representatives also denied the romantic rumors and insisted that they are just pals.
Meanwhile, many were convinced that Pitt and Aniston's split had something to do with the "Ad Astra" actor having an affair with Angelina Jolie despite Pitt and Aniston's announcement that there was no third party when they parted ways. Pitt and Jolie reportedly fell in love while filming "Mr. & Mrs. Smith" in 2004.
When Pitt and Jolie separated, a source said that Aniston gave a shocking remark. The "Friends" alum reportedly said that it was "karma."
"She always got the sense that something would happen with them eventually. She didn't feel that Angelina was truly the one who Brad was meant to stay with. She always felt that Angelina was too complex for him. He's a pretty simple guy," the source added.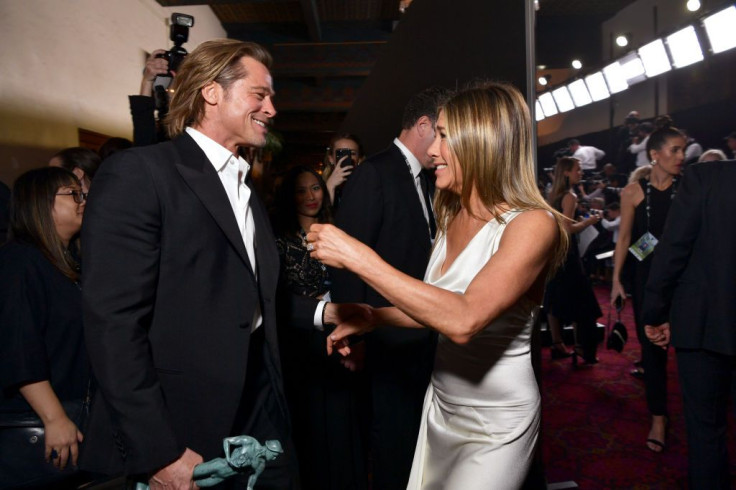 © Copyright IBTimes 2023. All rights reserved.