Jennifer Aniston, Brad Pitt Relationship: Telling Sign Exes Remain Good Friends
Jennifer Aniston and Brad Pitt remain good friends.
The exes have been plagued with reconciliation rumors after they both split their spouses Justin Theroux and Angelina Jolie. However, Aniston's rep said that the two have never met each other for years, but both ended this when Pitt attended his ex-wife's 50th birthday party on Saturday.
Ryan Smith and Brian Markle of Daily Mail pointed out that Pitt and Aniston are now on friendly terms years after their divorce. The two reportedly remained friends through his ill-fated relationship with Jolie.
The "Friends" actress celebrated her birthday in Los Angeles and the "Troy" actor was photographed in the area. Pitt, who is rumored to be secretly dating Charlize Theron, showed up with his long hair slicked back underneath a cap. Although there were no shots of Pitt facing the cameras, several sources confirmed that the "Ad Astra" actor was present during Aniston's star-studded birthday bash.
A source told Us Weekly that Aniston sent out invitations to a number of individuals and Pitt accepted it. His presence though wasn't a big deal to the celebrant.
Aniston mingled with her girlfriends most of the time, but she reportedly took a moment to catch up with her first ex-husband. They spoke briefly and she hugged Pitt and thanked him for coming.
There were rumors that Pitt and Aniston split because he was romantically involved with the "Maleficent" star when they were filming "Mr. & Mrs. Smith" in 2004. According to Us Weekly, Jolie and Pitt met and fell in love on the set of their first movie together. After a year, Pitt and Aniston split and the latter was shocked when she saw photos of Pitt and Jolie frolicking on the beach with her son Maddox shortly after their breakup. Pitt's rep denied that his romance with Jolie ignited before he split with Aniston.
When Aniston announced that she and Theroux were parting ways several of her fans wanted her to rekindle her romance with Pitt. A number took to Twitter with a number of memes urging the exes to reconcile.
There were rumors that Pitt and Aniston married in Paris. Another insider claimed that they were expecting their first child and were spending Christmas together. Apparently, those reports were not true.
There was also no bad blood between Aniston and Pitt's ex-fiancée Gwyneth Paltrow who was among her guests during her birthday party. Paltrow married her second husband Brad Falchuk last year.
​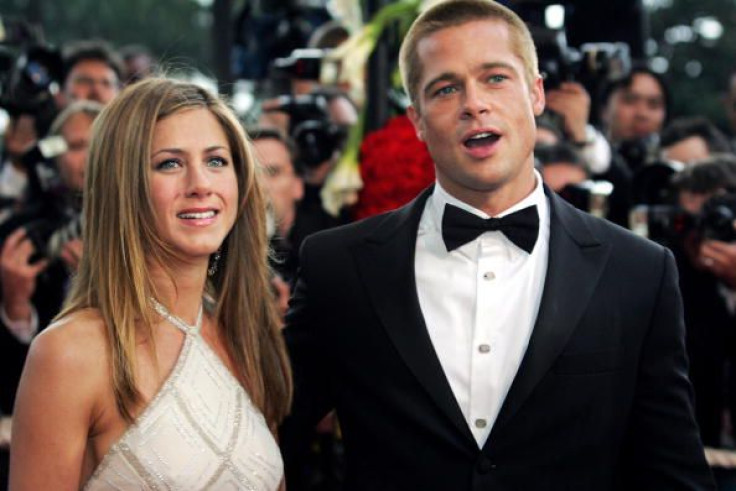 © Copyright IBTimes 2023. All rights reserved.