Jennifer Aniston Looks Stunning At Her First Red Carpet Appearance Post Marriage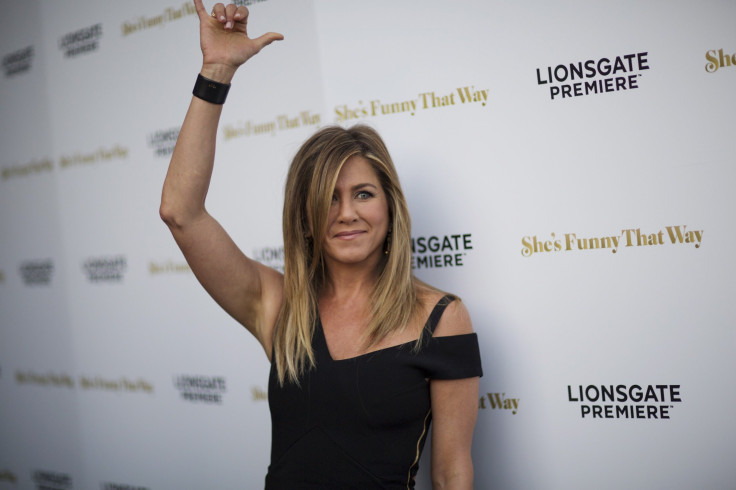 It is not easy to squeeze information from Jennifer Aniston, especially about her marriage. The former "Friends" star walked the first red carpet Wednesday after tying the knot with beau Justin Theroux sometime back.
"We had the beautiful luxury of having a beautiful private moment and I'm going to be selfish and keep it that way!" the new bride told ET Online, without divulging many details.
Aniston's marriage to her longtime fiancé Theroux was a hush hush affair. There have been several speculations in the media about her wedding gown and her guest list. But the couple did not come out with any details. When the publication questioned Aniston about what kind of gown she wore on her wedding, she gave the following answer.
"I'm not telling you about any of that stuff!" Aniston said. The "Still Alice" actress was in Los Angeles to attend her "She's Funny That Way" movie premiere.
For the event, the actress chose to wear a black Roland Mouret jumpsuit. She also wore her wedding ring, which comprised of two bands of gold with a line of diamonds in between.
Following their surprise wedding on Aug. 5, Aniston and Theroux jetted off to Bora Bora for their honeymoon. Various websites reported that the newlyweds stayed at the Four Seasons resort in Bora Bora, which costs $12,500 a night.
It is second marriage for Aniston, who divorced from Brad Pitt in 2005, after the actor had an affair with his co-star, Angelina Jolie. However, it is first marriage for Theroux, who met Aniston in 2011 on the sets of comedy, "Wanderlust." The two got engaged in August 2012 and started living together.
© Copyright IBTimes 2023. All rights reserved.