Jennifer Aniston Photographed Looking Chic, Confident In LA Amid Brad Pitt Rumors
Jennifer Aniston looks chic and gorgeous even while getting coffee.
On Wednesday, the "Friends" star, 50, was spotted going on a coffee run with a pal in Los Angeles. In photos published by Daily Mail, Aniston wore a stylish ensemble when she grabbed some drinks at a local Coffee Bean and Tea Leaf while being accompanied by bodyguards.
Aniston looked stunning a cropped double-breasted black jacket, tan wide-legged trousers and leopard-print stiletto heels. The actress was in full make-up and accessorized with hoop earrings and other jewelry.
Aniston has been busy filming her upcoming Apple TV Plus show, which is tentatively titled "The Morning Show," with Reese Witherspoon and Steve Carell since last year. Late last month, she was spotted reuniting with Carell on the set of their show, according to Daily Mail.
Aniston and Carell, who previously worked together in the 2003 comedy "Bruce Almighty," were photographed filming scenes beside a van marked KXIL 12 Action News.
Meanwhile, Aniston's latest sighting comes over a week after she and her co-stars made an appearance at Apple's live event to promote their new drama and the launch of Apple TV Plus streaming service.
Aniston described the characters of the show as "those under-slept, over-adrenalized people behind and in front of the camera." She added that their upcoming TV drama will focus on "the power dynamics between men and women" in the workplace.
"Through the prism of those under-slept, over-adrenalized people in front of and behind the camera, we take an honest look at the complex relationships between women and men in the workplace, and we engage in the conversation people are a little too afraid to have unless they're behind closed doors," she said.
"You can't have an honest look at complex relationships between men and women with just women," she continued.
The show's plot is based on the 2013 book by Brian Stelter titled "Top of the Morning," which centered on the rivalry between NBC's "Today" and ABC's "Good Morning America."
Carell also dished on his character, describing him to be "bold and dynamic." "He has a lot of gravitas, he's a great listener, he's also relatable and extremely handsome," Carell said.
The premiere date of Aniston's new show has yet to be announced.
Aside from "The Morning Show," several teaser clips of upcoming shows were also showcased during the Apple event, including "Dear," "For All Mankind," "See," "Home Before Dark" and more.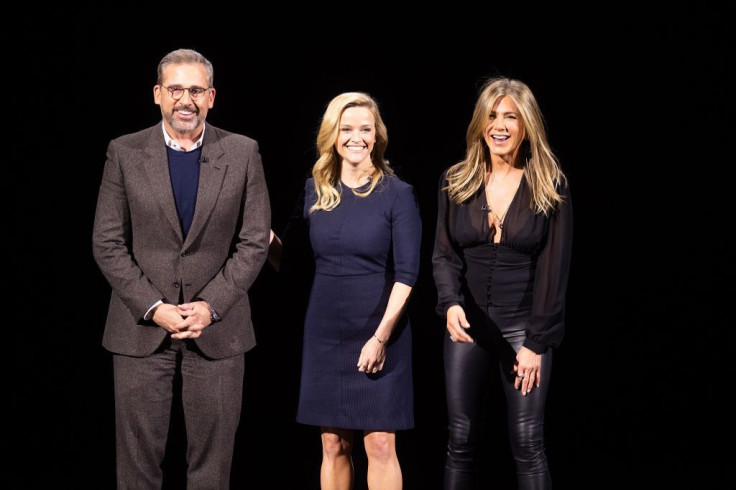 © Copyright IBTimes 2023. All rights reserved.