Jennifer Aniston, Reese Witherspoon Feuding? Co-Stars Prove Rumors Wrong
Jennifer Aniston and Reese Witherspoon reportedly don't get along while filming their upcoming Apple TV+ series, but there seems to be no truth to these rumors.
Life & Style recently claimed that Witherspoon is a "control freak," and her attitude is reportedly rubbing her co-star the wrong way. The "Legally Blonde" star reportedly likes to take charge, but Aniston, who is her fellow lead star and co-executive producer, is not having it.
"It's pretty clear to everyone on that set, from the cast to the crew, that Jen's miserable and feels like her voice is being stifled," a source claimed in the report.
However, Aniston and Witherspoon are actually close friends and have been for years. Last week, the two made a special appearance with Steve Carrell at Apple's big event in Cupertino to promote their project, "The Morning Show."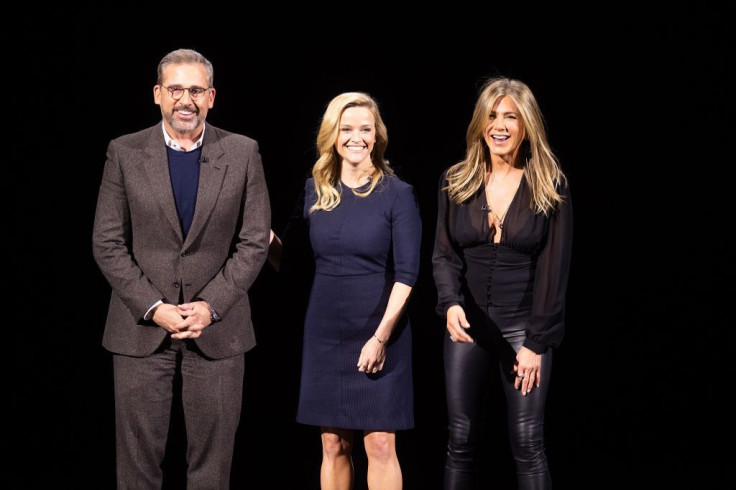 In February, the "Big Little Lies" actress was one of the many celebrities who attended Aniston's lavish 50th birthday bash at the Sunset Tower Hotel in West Hollywood.
Witherspoon and Aniston even posed for snaps in a photo booth during her party, pulling some funny faces in pictures posted on Instagram.
Witherspoon may have had a little too much fun during her pal's party, however, as she was spotted leaving the bash looking wasted. The actress even slipped down a flight of stairs and was photographed hanging on to the railing after she fell.
"Her husband Jim Toth had left more than an hour before with one of her friends and it seems they just left her to it, she didn't want to stop drinking," an eyewitness told Daily Mail back in February. "She looked as though she'd had a big night and was helped to her feet after falling to her hands and knees in giant heels."
Even before Witherspoon made a guest appearance as Aniston's little sister in "Friends," the former was already a big fan of Justin Theroux's ex-wife. During the 2011 Elle Women in Hollywood event, Witherspoon praised Aniston and said she considered Rachel Green and the rest of the gang of the long-running show her own friends.
She confessed that while filming her guest appearance on "Friends," she had "panicked" and "totally froze." However, Aniston had been there to give her a big hug and cheer her on.
Witherspoon once again confessed her love for Aniston during a 2012 interview on "Conan." She told the host that she had a "major girl crush" on Aniston.
"Doesn't everybody have a crush on Jennifer Aniston?" she gushed. "Like, dogs have crushes on Jennifer Aniston. Those dogs are like, 'I wish it was me in Marley and Me.' She's so cute!'"
Aniston and Witherspoon also displayed their friendship at the 2015 Oscars red carpet, where the "Marley and Me" star blew the "Sweet Home Alabama" actress a kiss when she passed by.
When asked if she and Witherspoon were friends, Aniston confirmed it with a nod, telling Entertainment Tonight, "She was my little sister—even if she's my TV sister."
© Copyright IBTimes 2022. All rights reserved.
FOLLOW MORE IBT NEWS ON THE BELOW CHANNELS