Jennifer Lawrence Ungrateful For Her 2014 Oscar Nomination? Actress Says, 'It Has Been Nice To Miss Awards Season'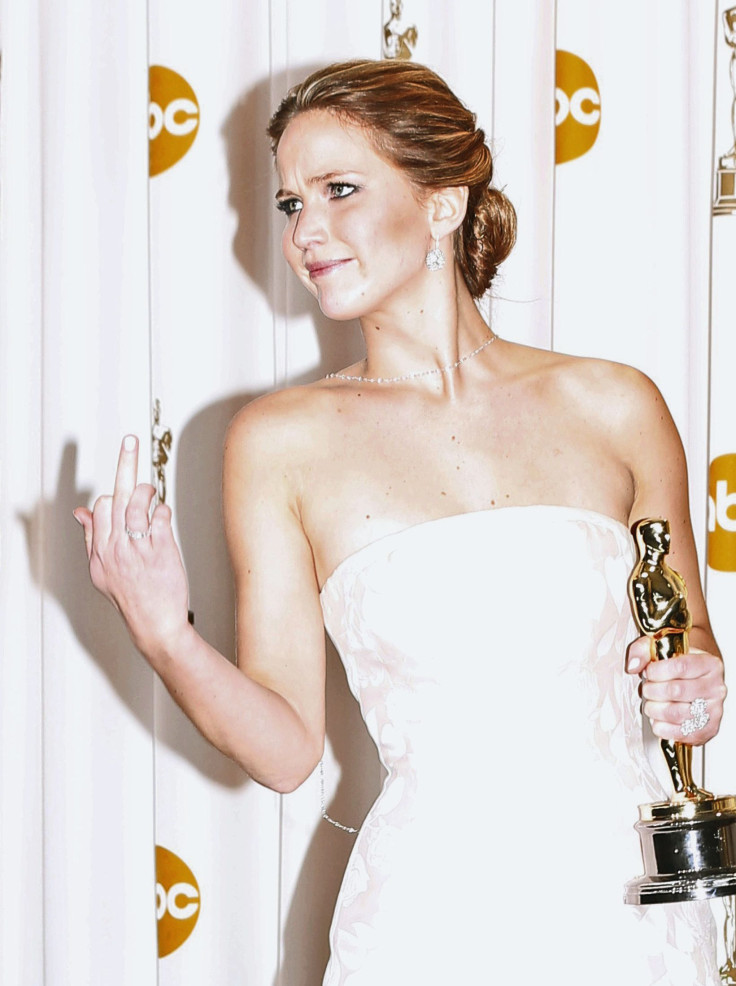 Jennifer Lawrence currently holds the record as the youngest three-time Academy Awards nominee in Hollywood, but according to the film star's latest interview, she is less than thrilled about attending the 2014 Oscars this weekend in honor of her most recent nomination.
In an interview with Deadline, the 23-year-old star, who is currently up for a Best Supporting Actress Oscar for her role in the film "American Hustle," revealed her happiness regarding her busy filming schedule which has reprieved her from attending a majority of awards seasons ceremonies. "It has been a bit of a blessing to be away and not really aware of what has been going on," Lawrence said, adding, "It has actually been really nice."
While Lawrence may be enjoying her break from the spotlight, reportedly missing the coveted shows to film the final scenes for her action franchise "The Hunger Games" and doing re-shoots for the upcoming adventure/fantasy flick "X-Men: Days of Future Past," she was questioned for her lack of appearance at the BAFTA awards in London on Feb. 16. "Oh it was a big surprise," said Lawrence regarding her Best Supporting Actress BAFTA win, an award which her "American Hustle" director, David O. Russell, collected on her behalf. "I didn't remember that the BAFTAS were happening that day. I certainly did not think I was going to win one so I put it out of my mind," said the Kentucky native, adding that she originally thought her win as a joke "I was in the middle of being painted blue [for "X-Men"] and someone said, You just won the BAFTA!' and I said, 'Oh, go f—k yourself.' And then it turned out they were serious," said Lawrence.
No matter who walks away with the Best Supporting Actress win on March 2 (Most critics are calling it a toss-up between Lawrence and "12 Years a Slave" actress Lupita Nyong'o), Lawrence has already shared her lack of desire to present an acceptance speech this year. "I think it's really unfair to make a person speak in front of the entire world at a moment like that because it is just so overwhelming," Lawrence told Deadline, adding that accepting her multiple coveted awards always gives her "anxiety."
Lawrence was nominated with her third Oscar nomination in January for her role in comedy/drama "American Hustle." The actress, who received a Best Actress nomination for her role in the indie film "Winter's Bone" in 2011, walked away with a Best Actress in a Leading Role win just two years later in 2013 for the critically-acclaimed feature "Silver Linings Playbook."
<iframe seamless="seamless" style="border: none; overflow: hidden;" height="450" width="100%" scrolling="no" src="http://assets-polarb-com.a.ssl.fastly.net/api/v4/publishers/RebeckaSchumann/embedded_polls/iframe?poll_id=161797"></iframe>
© Copyright IBTimes 2023. All rights reserved.