Jessa Duggar Discusses Gender Reveal Plans; '19 Kids And Counting' Star Still Pursuing Adoption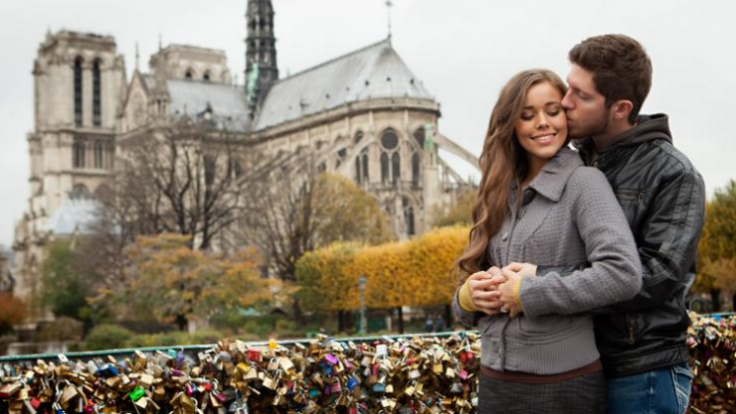 It looks like "19 Kids and Counting" fans will have to wait until November to find out the sex of Jessa (Duggar) Seewald's baby. The reality star has confirmed that she will not be sharing the gender of her child until he/she is born.
Jessa, 22, and her husband, Ben, 20, reportedly made the gender reveal announcement during a fan Q&A at the 28th annual ALIVE Christian Musical Festival in Mineral City, Ohio, on Saturday. Jessa's 24-year-old sister, Jill (Duggar) Dillard, her husband, Ben Dillard, and their son, Israel David, were also present at the event.
"She declined to reveal the sex of the baby Saturday, saying they won't reveal it until the child is born," People reports.
Jessa and Ben's decision to keep their baby's gender private comes just days after the couple shared a pregnancy update with their fans. In a Seewald family blog post titled "Grateful and Blessed," the reality stars reveal they're aware if they're having a girl or a boy. "We recently had an ultrasound, but aren't revealing our firstborn's gender yet," they wrote. "Can't wait to welcome this blessing from God into the world!"
While the "19 Kids" co-stars were not willing to divulge details about their little one, Jessa did touch on their plans for adoption. Jessa and Ben first shared their desire to adopt in February, two months before announcing Jessa was with child. She is currently halfway through her pregnancy.
"If God blesses us with biological kids of our own, it's not going to quench our desire to adopt," Jessa told People Magazine. "We hope to adopt a lot of kids."
Their plans were squashed after learning that adoption agencies and the state of Arkansas required couples to be married for at least two years before adopting. Jessa and Ben only tied the knot in November 2014.
During the couple's onstage appearance Saturday, Jessa and Ben announced they're still pursuing adoption. "We've been looking into different options, maybe going through the state or a private adoption agency and that sort of thing," Jessa said, according to People.
So, will the Seewald family be welcoming two babies in 2015? Not quite. Jessa said that agencies and the state have told them they must wait until their baby is at least 9 months of age. "We still have another year to go," she revealed.
Jessa and Ben's baby's gender reveal may not occur on television. TLC yanked the Duggar family's reality series, "19 Kids and Counting," from its airwaves in late May. Their decision to pull the show followed the release a police report detailing Jessa's brother Josh's molestation acts on five underage girls as a teenager. TLC has not announced their plans for the future of the series.
© Copyright IBTimes 2023. All rights reserved.
FOLLOW MORE IBT NEWS ON THE BELOW CHANNELS