Jessica Simpson Pregnancy Weight Gain Hits 40 Pounds: 'I'm Ready To Have My Body Back!'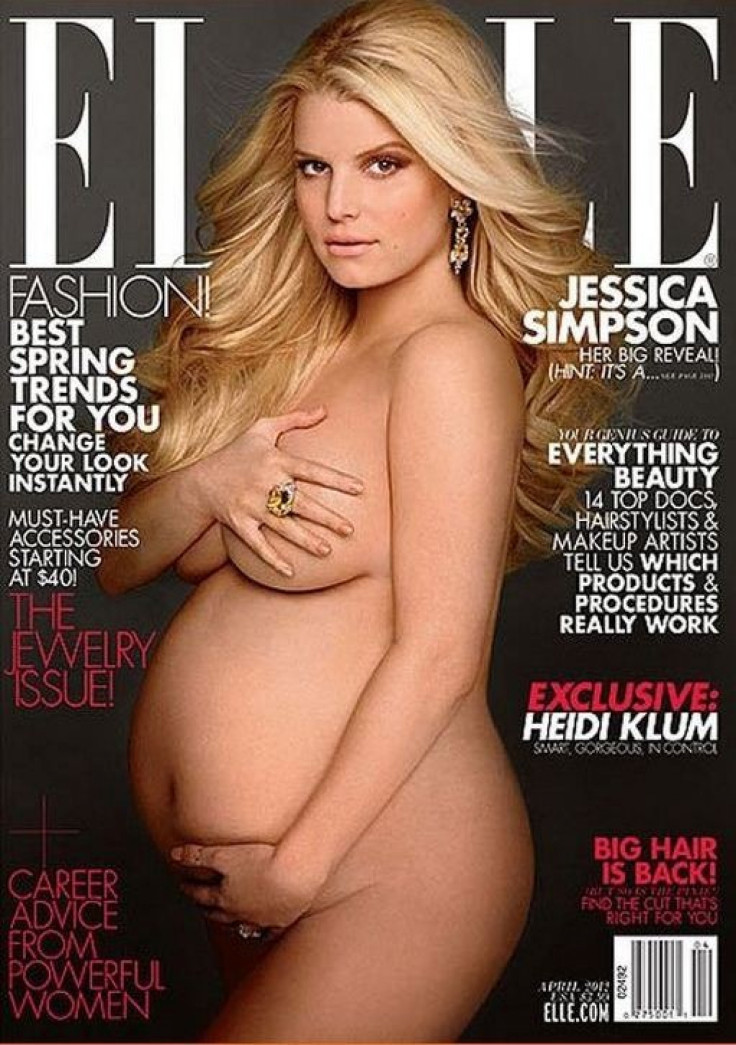 Jessica Simpson's pregnancy is nearing its end and the 31-year-old mom-to-be is ready to have her body back. I had a great pregnancy. Eating and not having to worry too much about it has been fun. Taking a break from working out has definitely been fun. But I'm ready for it to be over. I'm ready to have my body back! she told Hello! magazine.
She told Hello! that she has gained 40 pounds throughout the duration of her pregnancy and, after giving birth to her baby girl, she hopes to have her old body back, according to the Daily Mail.
Jessica Simpson's weight gain has been a subject of snarky criticism, with many poking fun at the singer's huge belly with jabs like I am fairly certain that Jessica Simpson has been pregnant for 17 1/2 years? and BREAKING NEWS: JESSICA SIMPSON GIVES BIRTH TO KITCHEN SINK.
But the singer and fashion mogul did not let the criticism bother her. She posed naked and pregnant on the April cover of Elle magazine.
They didn't even ask me to do that, she told Ryan Seacrest on his KIIS-FM radio show. It was my idea. It kind of just seemed a natural thing for me to do. I'm like 170 pounds and I wanted to pose nude. I try to be like 110 pounds.
It's funny to be at your heaviest and feel the most confident. I just take such pride in being a mom! I just love my body more than ever now, she said.
Jessica Simpson's naked and pregnant Elle cover was photographed months before its release, so blonde gained a bit of weight since. Unfazed, she joked about her pregnancy diet.
Now cantaloupe is fine, but we have moved onto cheesecake, she said. I had cheesecake for breakfast this morning. Lunch? No. I had fried chicken.
Her pregnancy diet has come into question before and some health experts have expressed concern over her alarming weight gain.
According to an article from InTouch Weekly via Baby Center, Jessica Simpson's drastic weight gain could put her at risk for gestational diabetes, hypertension and other pregnancy complications. Why would you deliberately sabotage your body with unhealthy, fatty foods? nutritionist Jackie Keller told In Touch Weekly last month. You're not supposed to eat twice as much -- you just need 300 extra calories a day. The recommended gain for a woman at a healthy weight is 25 pounds, reported InTouch.
The Stir by Café Mom discussed Simpson's pregnancy diet, which reportedly has consisted of buttered Pop Tarts, peanut butter and jelly shots, Cap'n Crunc, Kraft Mac 'n' Cheese and cheesecake. Her current diet sounds like the menu at a sixth-grade slumber party -- after the parents have gone to bed -- or more accurately, a stoner's dream. I'm sure it's fun to eat, but it can't be good, wrote Nicole Fabian-Weber of The Stir.
If you happen to gain more than 35 pounds while you're pregnant, fine, whatever. Everyone's bodies -- and pregnancies -- are different. But would it hurt Jess to at least try to eat something green once in a while? If not for her, for her growing baby? I'm not a doctor, but I'm pretty sure all the sugar and fat and processed-ness of the food Jessica is inhaling is going to her baby, as well. I mean, that is why you can't drink booze while pregnant, right? Fabian-Weber added about Simpson's weight gain.
In interviews thus far, Jessica Simpson has only laughed off her pregnancy diet and cravings. However, supermodel Gisele Bundchen might not think it is such a laughing matter.
In a March 2010 interview with Vogue, Gisele discussed her first pregnancy with son Benjamin and made a point to mention how health was a top priority throughout the nine months. I did kung fu up until two weeks before Benjamin was born, and yoga three days a week. I think a lot of people get pregnant and decide they can turn into garbage disposals. I was mindful about what I ate, and I gained only 30 pounds, said the Brazilian beauty.
What to Expect detailed a healthy pregnancy diet that included the following: The Pregnancy Diet is built around a few basic principles (which are actually pretty similar to the basic principles of healthy eating at any time in life): Avoid empty calories and junk food, provide your baby with a regular supply of good nutrients, and eat the right quantities of the right foods each day.
FOR FREE to continue reading
✔️ Unlock the full content of International Business Times UK for free
offer available for a limited time only
✔️ Easily manage your Newsletters subscriptions and save your favourite articles
✔️ No payment method required
Already have an account?
Log in
© Copyright IBTimes 2023. All rights reserved.