Jessica Simpson's Pregnant, Nude Elle Cover Receives Snarky Criticism [PHOTO]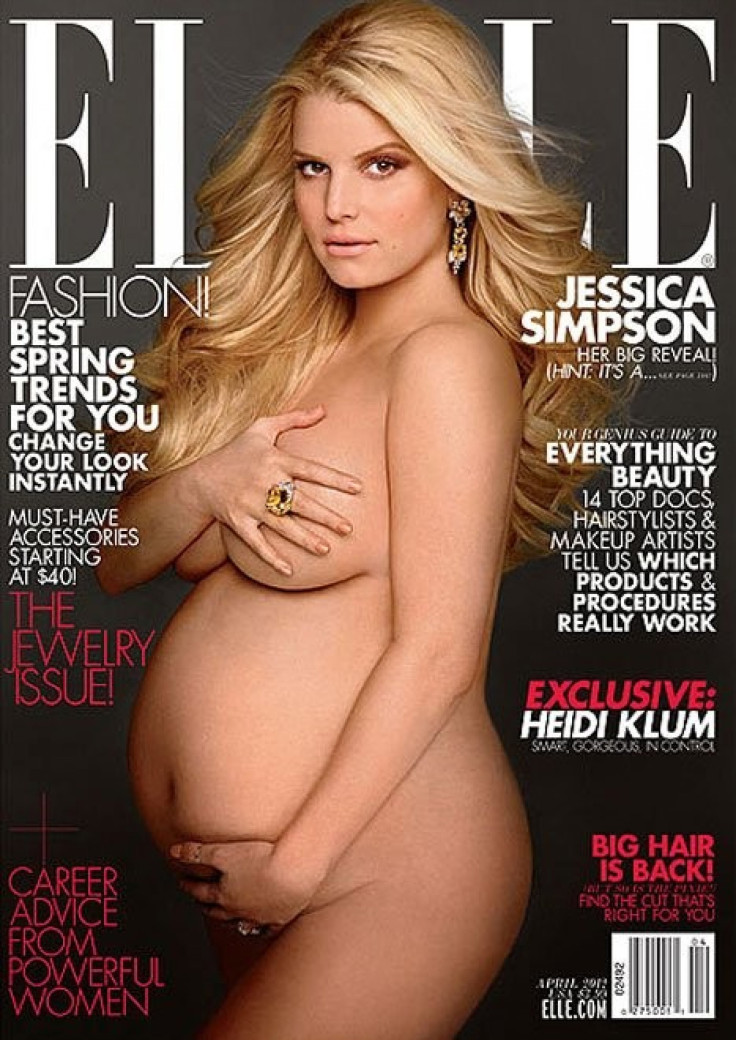 Jessica Simpson posed pregnant and nude for the April issue of Elle magazine, showing off a huge baby bump and some sparkly bling. It was a bold move for the 31-year-old, who attempted to keep her pregnancy under wraps for the first few months, until she finally revealed she was expecting her first baby with fiancé Eric Johnson by dressing up as a mummy (get it? mummy, mommy) for Halloween.
Jessica Simpson told Elle that she will give birth to a baby girl. The blonde bombshell has not revealed her due date, though it is reportedly some time this spring (and, by the looks of it, some time soon).
When did she find out she was pregnant? We were goin' to have an all-day drinking binge, Simpson said of how she felt before she knew for sure. Gonna ride our bikes, hang out . . . do naughty things. But I started feeling this overwhelming guilt. Why would I feel guilt at the idea of going out and having cocktails with my friends?
Jessica Simpson tweeted her excitement over the cover on Wednesday. My Elle cover comes out today!! I'm a lil nervous but I've never felt more beautiful or empowered. I hope you like it!!! she wrote. But, quickly after the cover was released, many poked jabs at Simpson's seemingly endless pregnancy and her nude Elle cover.
Thanks to Demi Moore showing off her naked pregnant a-- on Vanity Fair in 1991 and the technological advances of Photoshop, any knocked up celebrity trick thinks she can flash all her nooks and crannies on the cover of a magazine, quipped DListed blogger Michael K. Case in point: here's Jessica Simpson recreating 'the Demi' for Elle's April issue. Elle must have dulled all their Photoshop tools while touching this up, because Jessica's baby balloon in its current state would need 2 pages to show it in its complete glory.
Here's a pregnant Jessica Simpson posing nude for the April issue of Elle if posing nude means they de-jowled her head and slapped it on Demi Moore's body because it was cheaper than airbrushing out nacho cheese burns, wrote The Superficial.
Other arguments were a bit more refined, like the critique from the Dallas Observer that said: Why do we feel the need to sexualize expectant (and non-expectant) pop stars this way, and in the same exact pose as Demi Moore and Britney Spears, no less. Have we not evolved past that? Why are women with some level of success forever relegated to the same cliché poses?
Twitter users were not too friendly towards Jessica Simpson, either.
Jessica Simpson's Elle cover shot surely garnered a heap of feedback, but the pop star and fashion mogul is not the first to shed it all to show off a baby bump.
Jessica Simpson's nude cover is reminiscent of Demi Moore's first naked and pregnant cover of August 1991 Vanity Fair. Since then, a multitude of celebrities have mimicked the pose including Jessica Simpson, Miranda Kerr, Mariah Carey, Cindy Crawford, Britney Spears and Christina Aguilera.
What do you think of Jessica Simpson's pregnant and nude Elle shoot? Leave your feedback in the comments section below.
© Copyright IBTimes 2023. All rights reserved.