Jessica Simpson Shows Off Large Baby Bump In New Bikini Picture [PHOTO]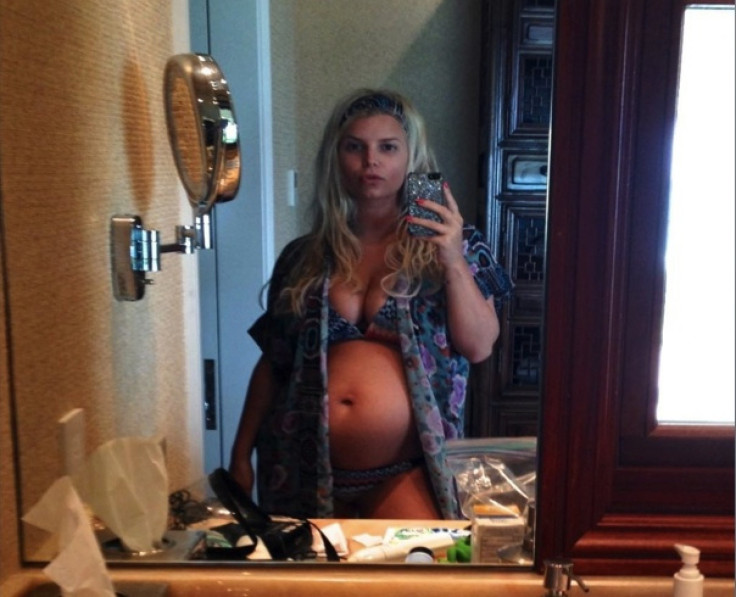 Jessica Simpson confirmed her second pregnancy less than a week ago. Now, she is showing off a surprisingly large baby bump.
Simpson showed off her stomach in a new bikini picture with an open floral-print robe. The caption accompanying the photo said "Bumpin' and proud."
On Christmas Day, Simpson also tweeted a picture of her eight-month-old daughter on a beach with the words "Big Sis," written in the sand.
Last month, the entertainer and entrepreneur finished shooting her second commercial for Weight Watchers, and it appears as if she has lost all of her baby weight from her first pregnancy.
Simpson has famously been struggling to lose the 40 to 50 pounds she gained in that pregnancy, especially since Weight Watchers offered her a rumored $4 million deal to lose the extra pounds by a certain date.
Simpson first showed off her weight loss in September while on Couric's new show, "Katie." Simpson talked about her weight struggles. "I thought my doctors were telling me that it was just a lot of water and whenever my water broke my whole entire stomach would go down, but that did not happen. All the weight did not come out with the baby."
Simpson added that she has had a lot of pressure on her to lose the weight, but said she was not in any rush.
"I've just had a lot of pressure on me and today was actually one of my goals," Simpson told Couric.
Although she is pregnant again and has evidently gained back some of the weight she lost from her first pregnancy, Weight Watchers features Simpson on the January cover of its magazine.
Simpson appears slimmer than in the bikini photo she tweeted, and she wears a loose-fitting blue and white top.
Weight Watchers said Simpson will remain their spokeperson during her second pregnancy. The company also noted that she will "not be following the program during the pregnancy while her weight and well-being are monitored by her obstetrician."
© Copyright IBTimes 2023. All rights reserved.