JetBlue Flight Passenger Bites Co-Flyers Forcing Plane To Divert To Las Vegas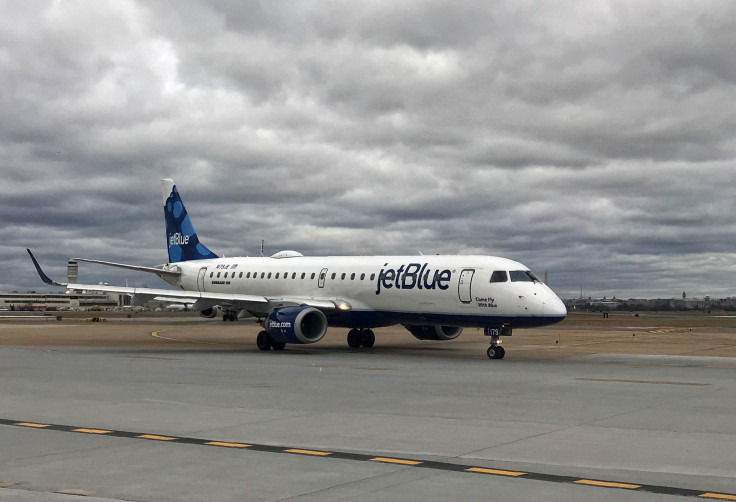 A JetBlue plane was forced to divert to Las Vegas on Sunday after a man bit his co-passengers mid-air. The incident, which was caught on a cellphone camera, took place during the flight from Los Angeles to New York.
Passengers on board the plane said that the man suddenly began biting people sitting next to him, some of whom he appeared to know, while the plane was over Utah. The man, whose name was not released, became disruptive during the flight forcing the pilot to land at McCarran International Airport.
According to reports, doctors on board the plane tried to help the passenger, but they were also attacked. Another passenger, only identified as Tom, told CBS News that he helped restrain the man.
"I grabbed his hands behind his back and held him there while the flight attendants put the restraints on him," Tom said. "At that point, he started yelling and tried to come towards the flight attendant, behind me, at the time. I really had a hell of a time keeping him in place there."
JetBlue said in a statement that the passenger was taken off the aircraft after the plane landed in Las Vegas and the other passengers resumed their scheduled flight to New York without further incident.
No charges were filed against the man, who was taken into custody by airport police, reports said.
This is not the first time such an incident took place on board a plane. Last month, a Manhattan woman was arrested for biting at least three flight attendants during an airborne brawl. The incident took place on a Delta Air Lines plane from Brazil to New York on Nov. 27, when the woman got into a fight with her seat-mate and later kicked and bit flight attendants when they tried to calm her. Ires Alves Pereira got herself assault and other charges and was later released on $100,000 bond.
In another incident in May, an American Airlines bit a flight attendant before jumping off the plane and onto the tarmac in North Carolina. After jumping onto the tarmac, the man was intercepted by two airport employees and taken into custody.
© Copyright IBTimes 2023. All rights reserved.