Jill McCabe Facts: Ex-FBI Deputy Director's Wife Attacks Trump In Fiery Op-Ed
Jill McCabe, wife of former FBI Deputy Director Andrew McCabe who has been the target of President Donald Trump's indignation, on Monday set the record straight in a Washington Post op-ed.
In the op-ed, Jill defended her honor and reputation and that of her husband's by saying that the president and his allies persistently and falsely attacked her. She also wrote about her decision to run for office in Virginia and clarified her alleged ties and donations from Clinton allies saying she is finally free to talk now that her husband was fired.
"….I was recruited to run for state office after making a statement about the importance of expanding Medicaid. That decision — plus some twisted reporting and presidential tweets — ended up costing my husband, Andrew, his job and our family a significant portion of his pension my husband had worked hard for over 21 years of federal service. For the past year and a half of this nightmare, I have not been free to speak out about what happened. Now that Andrew has been fired, I am."
McCabe is a working mom, a leader of the community and an experienced pediatrician.
According to her website, McCabe wanted to become a doctor since she was 5 years old and she has been a pediatric emergency physician for the last nine years.
Currently, she serves as the medical director in three departments at Inova Loudoun Hospital, Leesburg, Virginia, including the Pediatric Emergency Department, the Pediatric Hospitalist Services and the outpatient Concussion Program.
Apart from this, McCabe has also pushed laws in order to better protect the health of the kids in the community. Some of her significant works involve her efforts to protect student-athletes and mandating the use of bike helmets for kids under 15. She currently resides in Loudoun County with her husband and two children.
In a meeting with Andrew last May, reports stated that Trump asked him who he had voted for in the presidential elections in 2016. In addition to this, Trump also repeatedly accused Jill and her husband of taking donations from Democratic Virginia Gov. Terry McAuliffe for her political campaign. Trump said it was an attempt by Hillary Clinton to sway the FBI's investigation into her email server.
In her op-ed, Jill addressed all these rumors and claimed them to be "just false and utterly absurd."
"A reporter called my cell phone on a Sunday in October 2016, asking questions about contributions to my campaign and whether there had been any influence on Andrew's decisions at the FBI. This could not be further from the truth. In fact, it makes no sense. Andrew's involvement in the Clinton investigation came not only after the contributions were made to my campaign but also after the race was over," she said.
Interestingly, the op-ed came just a week after Andrew wrote his own opinion piece in the same publication defending his career and status.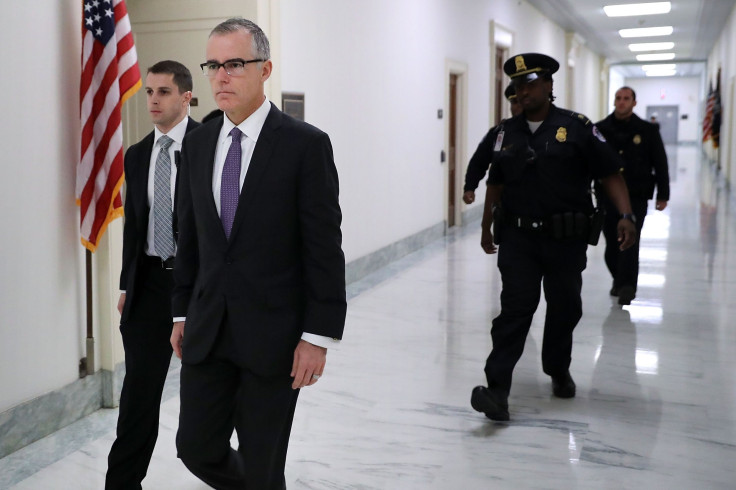 Andrew was fired by Attorney General Jeff Sessions on March 16, just a few days before he would have been eligible to receive a pension. Sessions had said Andrew "made an unauthorized disclosure to the news media and lacked candor — including under oath — on multiple occasions."
However, Andrew claimed the action was part of the Trump administration's "ongoing war on the FBI and the efforts of the Special Counsel investigation."
© Copyright IBTimes 2023. All rights reserved.