Jim Webb Drops Out Of Democratic Race, Weighs Independent Presidential Campaign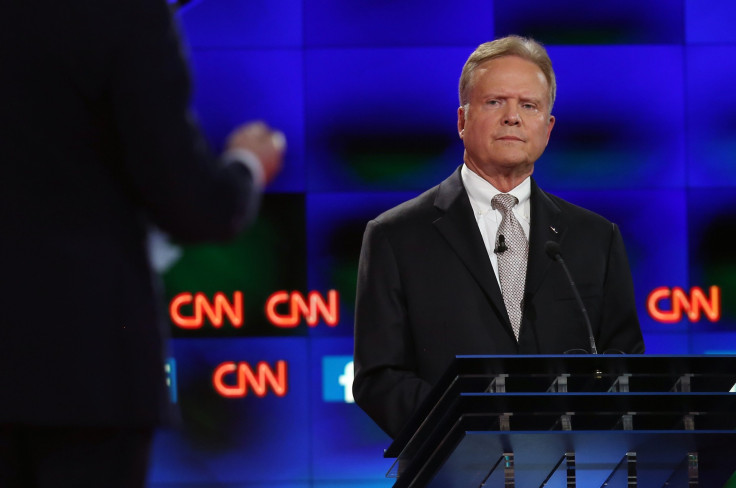 Former Virginia Sen. Jim Webb dropped out of the Democratic race for president Tuesday, fueling speculation that he may run as an independent candidate. Webb said his views "on many issues are not compatible with the power structure and the nominating base of the Democratic Party."
Switching parties wouldn't be new for him: Webb served as a Republican secretary of the Navy under President Ronald Reagan and became a Democrat only in 2006, ABC News reported. Webb's campaign released a statement Monday titled "Jim Webb to consider independent run," about a week after the first Democratic presidential debate, which he has claimed was "rigged," the Hill reported. Webb, who inspired a "Saturday Night Live" parody with his comments about not getting enough time to speak, talked for about 15 minutes. The race's front-runners, former Secretary of State Hillary Clinton and Sen. Bernie Sanders of Vermont, each clocked about 30 minutes of speaking time.
The survey aggregator HuffPost Pollster had Webb in fourth place among likely Democratic primary voters Tuesday. He had 1.1 percent support, behind Clinton, Sanders and Vice President Joe Biden, who hasn't declared whether he's going to run. Webb was, however, ahead of former Maryland Gov. Martin O'Malley, former Rhode Island Gov. and Sen. Lincoln Chafee and Harvard University professor Lawrence Lessig.
Jim Webb Presidential Candidate Profile | InsideGov
Pundits said Webb's independent run may not be the best idea. The Los Angeles Times noted that independent candidates must petition in each state to be put on the ballot, and Politico reported Webb raised only $697,000 last quarter.
Third-party candidates never win presidential elections, but they can affect the outcome. Ralph Nader's run in 2000 arguably cost Democrat Al Gore Florida and the presidency in 2000. In 1992, Ross Perot got 19 percent of the vote as Bill Clinton unseated George H.W. Bush.
© Copyright IBTimes 2023. All rights reserved.
FOLLOW MORE IBT NEWS ON THE BELOW CHANNELS