Jimmy Fallon Shares Hilarious Video Of Justin Timberlake From Golf Tournament [Watch]
Jimmy Fallon shared a video of himself also featuring Justin Timberlake and American football players Patrick Mahomes and Travis Kelce at a golf course located in the Wynn Resort in Las Vegas.
In the video posted on Instagram Monday, Fallon and Timberlake can be seen celebrating on the golf course with Mahomes and Kelce who won the match against actors Chace Crawford and Kathyrn Newtson.
At the beginning of the video, Timberlake lifted Fallon before running toward the players to celebrate their victory. Timberlake, who was wearing orange shorts and a blue t-shirt, ran towards Fallon again to give him a chest bump.
After the chest bump, Fallon acts like falling to the ground while Mahomes gives him a hand to stand up on his feet. "Today's gonna be a good day," Fallon captioned the video.
Fans took to the comments section of this hilarious video to share their reactions.
"I'm dying! Kelce, Mahomes and Jt with you… pretty sure this is the only time I'd enjoy golfing (this happening in front of me)," one of the fans wrote while another fan commented, "This should be everyday for everyone! Laughing and laughter is needed like air to breathe in joy!"
Timberlake, on the other hand, also shared a video on his Instagram featuring a glimpse of the match and dancing around the golf course with Fallon.
Celebs took to the comments section to share their reactions.
Comedian Chelsea Handler wrote, "This is awesome" while Fallon himself questioned, "Did we?" Miss America 2015 Kira Kazantsev commented, "Are you even playing golf if you're not dancing?"
Actor Ryder Allen, who worked with Timberlake in the movie, "Palmer" also commented, "This looks like legit the best time and made me smile so big! You and Fallon are my fav duo - besides us of course."
On the work front, Timberlake will be next seen in a crime drama, "Reptile," which is expected to release later this year. The flick is currently under post-production and it is helmed by director Grant Singer.
Fallon, who is known for hosting his talk show "The Tonight Show Starring Jimmy Fallon" since 2014, was featured in a movie, "Marry Me" starring Jennifer Lopez and Owen Wilson.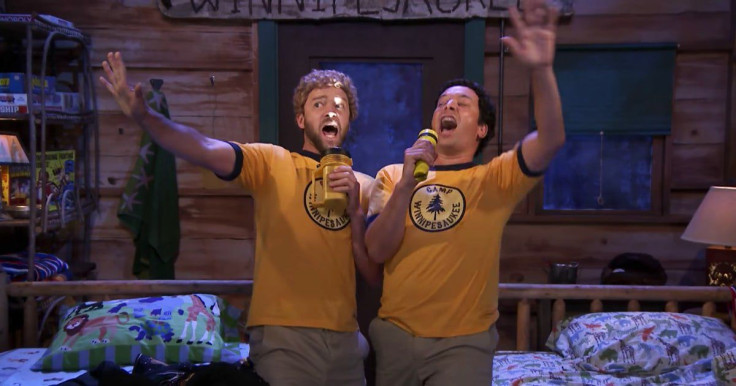 © Copyright IBTimes 2023. All rights reserved.