'The Jinx' Finale: HBO Releases Statement On Robert Durst Arrest, Involvement In Apprehension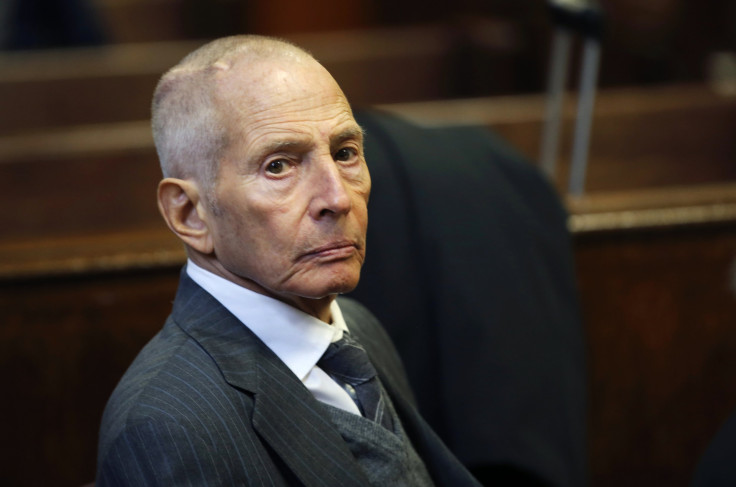 Robert Durst, the subject of HBO's recent docu-series "The Jinx: The Life and Deaths of Robert Durst" isn't done with his provocative story. The former New York real estate scion was arrested Saturday on first-degree murder charges just before the show's finale on Sunday night.
As previously reported, Durst was apprehended in New Orleans in connection with the 2000 execution-style murder of his close friend, Susan Berman. He has lived a life partially on the run since the mysterious disappearance of his first wife and the subsequent murder of Berman. Until now, police hadn't been able to secure enough evidence to link him to the crimes. The intrigue surrounding him as a public figure though, gave producers Andrew Jarecki and Marc Smerling the inspiration to focus "The Jinx" on his story. The true crime docu-series examined all of the evidence against the 71-year-old and put it into context for the viewer. While many thought the case was cold, it turns out investigators have been looking into him all along.
According to the New York Times, the producer's research for their documentary turned up some startling evidence against Durst and, after consulting with their lawyers, they agreed to speak to Los Angeles investigators in early 2013.
"We simply cannot say enough about the brilliant job that Andrew Jarecki and Marc Smerling did in producing 'The Jinx,'" HBO said in a statement to the press. "Years in the making, their thorough research and dogged reporting reignited interest in Robert Durst's story with the public and law enforcement."
Perhaps the most damning evidence against Durst came during the finale. When confronted with a handwritten envelope that was sent to authorities in 2000, alerting them to Berman's "cadaver," the producers brought in experts to try and match the handwriting to Durst. In an interview he acknowledged the similarities to his own handwriting (particularly the misspelling of Beverly Hills as "Beverley"). After the interview drew to a close, Durst asked to use the bathroom. As The Washington Post reports, he neglected to remove his microphone and began whispering to himself once he thought he was alone.
"There it is, you're caught," he said. "… What the hell did I do? Killed them all, of course."
In 2000 police were about to question Berman about the disappearance of Durst's first wife, Kathleen McCormnack. Unfortunately, she was murdered before they could. Now it seems that Los Angeles prosecutors have found enough evidence linking the real-estate heir to the crimes to make an arrest. It's unclear at this time if any of the evidence found during research for "The Jinx" will be admissible in court.
© Copyright IBTimes 2023. All rights reserved.