Joan Rivers Dead At 81: Comedian Pushed Boundaries For Women, Made America Laugh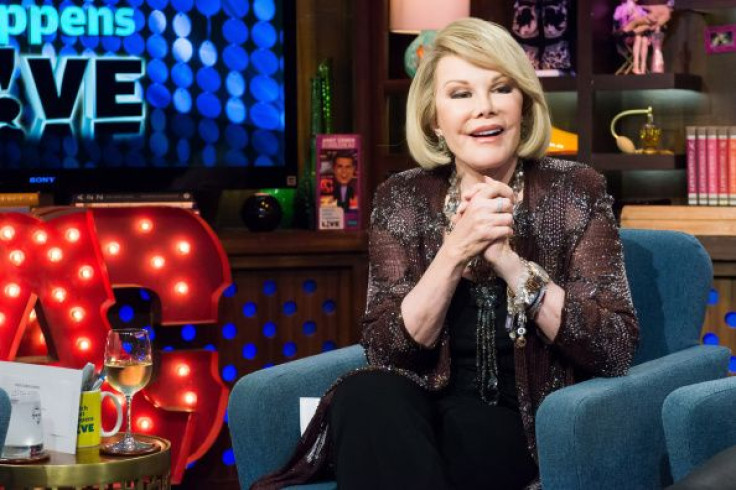 Comedian and television host Joan Rivers has died after spending nearly a week at Mount Sinai Hospital in New York on life support. She was 81. Her daughter, Melissa Rivers, announced the death Thursday.
Rivers' caustic humor, brash comedy routines and frequent plastic surgeries defined her career as a charismatic and often controversial entertainer. Her provocative standup shows pushed the boundaries of what was considered acceptable for women to talk about in public, and her humor rarely disappointed.
Rivers got her start in theater, having appeared in the off-Broadway play "Driftwood" opposite Barbara Streisand in 1959. Her big break in show business came six years later when she appeared as a guest on "The Tonight Show Starring Johnny Carson." Audiences instantly connected with the gutsy, vociferous New Yorker. She soon landed her own television program called "That Show with Joan Rivers," also known as "The Joan Rivers Show."
Rivers was born Joan Alexandra Molinsky in Brooklyn in 1933 to Russian Jewish immigrant parents. She graduated from Barnard College in 1954 with a bachelor's degree in English and anthropology. In addition to her comedy career, Rivers was also an author, a director, a playwright and a frequent interviewer at Hollywood red carpet events. Rivers' mark on Tinseltown was forever cemented when the city awarded her a star on Hollywood Boulevard's Walk of Fame in 1989.
In 1994, Rivers was nominated for Broadway's coveted Tony Award for Best Actress in a Play for her portrayal of Sally Marr, a standup comic and mother of seminal New York comic Lenny Bruce, in "Sally Marr … and her Escorts." Rivers co-wrote the play.
To younger audiences, she was widely known as the meanest woman in fashion for her TV show "Fashion Police" on E! The program, which debuted in 2010, skewered celebrities' fashion choices and celebrated good taste in the rudest way possible.
Over the course of her career, Rivers pulled no punches when it came to poking fun of others. But she never shied away from satirizing her own choices and experiences. Rivers made light of everything from her bankruptcy and facelifts to her husband's suicide.
Rivers' 2012 tell-all book "I Hate Everyone, Starting With Me" revealed everything the comedian said she could not stand, from younger comics to her appearance. "I was not an attractive child," she wrote. "When I didn't use my Girl Scouts uniform as a uniform, I used it as a tent."
And what else did Rivers hate? Obituaries – but never funerals. "That's how I meet new men," Rivers wrote of encountering widowers at funerals. "I always let them know that I'm the same size as the wife, so then they don't have to give away the clothes."
Rivers is survived by her daughter Melissa Rivers and her 13-year-old grandson, Edgar Cooper Endicott.
FOLLOW MORE IBT NEWS ON THE BELOW CHANNELS