Joan Rivers Update: Doctors Begin Process To Bring Actress Out Of Coma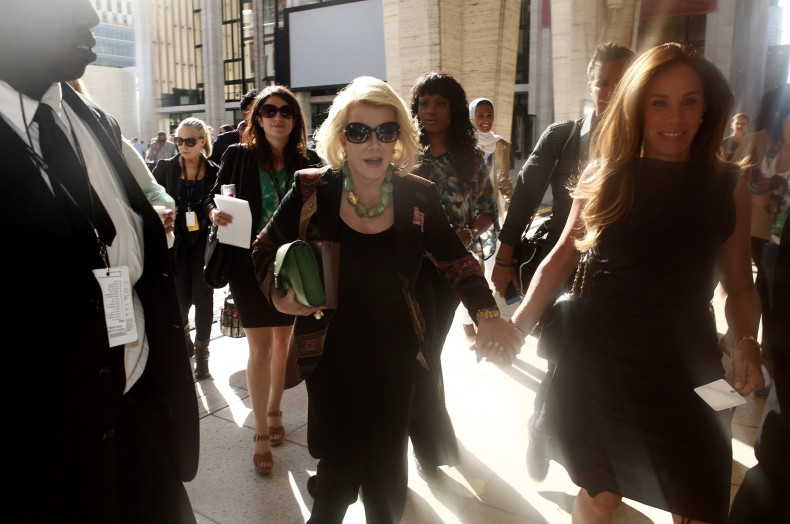 Doctors treating legendary comedienne Joan Rivers have started the procedure to bring her out of a medically induced coma by Tuesday, according to reports. However, it is feared that the actress may have lost her motor skills because of an allegedly mismanaged operation earlier.
Rivers has been kept on life support after she was put into a coma Friday following a cardiac arrest during a throat operation the previous day. Meanwhile, Rivers' family is considering legal action against the doctors who performed her operation, the New York Daily News reported Monday. Rivers was rushed to Mount Sinai Hospital in New York City on Thursday after she suffered a cardiac arrest at a doctor's office in the city.
"The waking-up process has begun and will take until Tuesday," a source close to the family told the New York Daily News, adding: "There is real concern that the part of the brain that controls motor skills may have been compromised, leaving her as either a vegetable or in a wheelchair."
Melissa Rivers, who has said that she has her "fingers crossed" and is praying for her mother's recovery, is reportedly considering a lawsuit against the doctors who performed the routine medical procedure on the 81-year-old actress.
"Shock and upset is turning to anger, and they are looking for someone to blame," a source close to the family said Sunday.
"She still thinks everything is going to be OK. She is refusing to admit that a world might exist without her mother in it," another source said about Melissa, adding: "Others that are close to Joan are starting to realize that the outcome they want is very unlikely."