Joe Biden Is Getting His COVID Booster, But Can You?
President Joe Biden will receive his COVID-19 booster shot on Monday afternoon, the White House said.
Biden is slated to get his third dose of the Pfizer-BioNTech COVID vaccine at 1 p.m. ET at the White House. The event will be live on camera, where he will give comments ahead of receiving the booster shot.
Biden received his first two doses of the Pfizer-BioNTech COVID vaccine in January, ahead of his inauguration.
The news of Biden receiving the booster dose of the COVID vaccine comes on the heels of Centers for Disease Control and Prevention Director Dr. Rochelle Walensky's decision to recommend the shot for those aged 18 to 64 that are at risk of COVID due to their workplace or institutional environment as well as older adults, long-term care facility residents, and those people with underlying health issues.
Walensky said on CBS News' "Face the Nation" that "because of that close call and because of all the evidence we reviewed both of the FDA and at the CDC, I felt it was appropriate for those people to also be eligible for boosters."
She continued, "So, who are those people? Those are people who live and work in high-risk settings, that includes people in homeless shelters, people in group homes, people in prisons, but also importantly are people who work with vulnerable communities. So, our health care workers, our teachers, our grocery workers, our public transportation employees."
The CDC has also recommended booster doses for people aged 50 to 64 with underlying medical conditions at least six months after their last Pfizer-BioNTech shot. The agency also recommended the booster for individuals aged 18 to 49 with underlying health conditions based on their individual benefits and risks.
Emergency authorization was given by the Food and Drug Administration for the Pfizer-BioNTech booster shot a week earlier for people aged 65 and older, as well as those that are at high risk of severe diseases and those that have jobs that put these at a higher risk of contracting COVID-19.
Biden, who is 78, falls within the guidelines for receiving the booster dose.
White House COVID-19 response coordinator Jeff Zients said on Friday that up to 20 million Americans had already reached the six-month mark and were eligible for the booster shot.
"Up to 20 million Americans have already hit their six-month mark and therefore are now eligible. So, as of today, up to 20 million Americans can get their booster shot.
"We are ready to get booster shots in arms right away," he added.
Biden also urged all Americans on Friday who are eligible to receive the Pfizer booster shot to get their dose of the vaccine.
"If you've got the Pfizer vaccine — if you got the Pfizer vaccine in January, February, or March of this year and you're over 65 years of age, go get the booster," Biden said.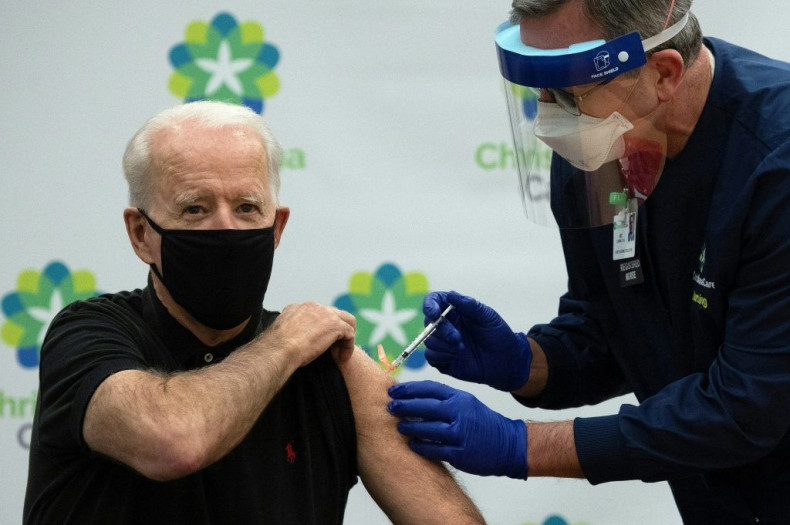 © Copyright IBTimes 2022. All rights reserved.