John Cena's WrestleMania 33 Match Established On WWE 'SmackDown,' Nikki Bella Likely Involved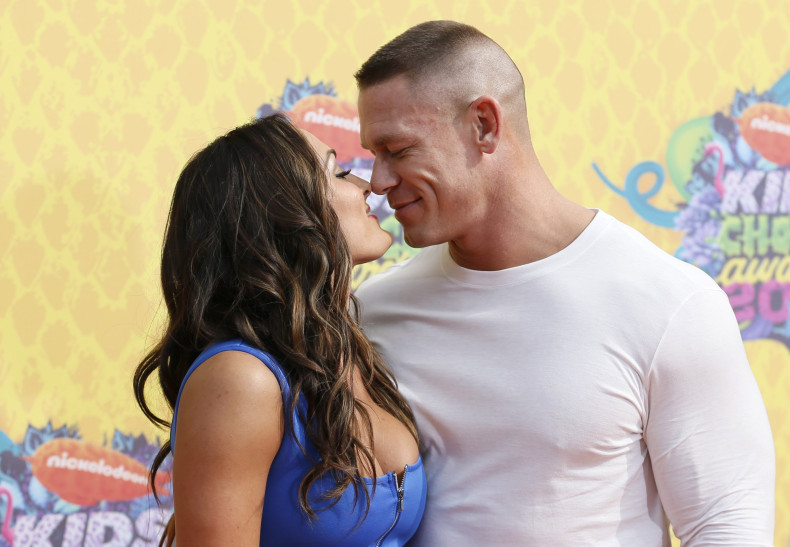 After weeks of speculation that John Cena would team up with Nikki Bella to take on The Miz and Maryse at WrestleMania 33, the rumor appears to be true. The feud was established on Tuesday's edition of "SmackDown Live," and a match is likely to be made official in the near future.
It all started in the Falls-Count-Anywhere Match between Nikki and Natalya. As the two WWE superstars were brawling backstage, Natalya tossed Nikki into Maryse, knocking her over. Minutes later, when the match continued on the outside of the ring, Maryse attacked Nikki with a pipe, allowing Natalya to get the win. As Maryse was attacking Nikki, The Miz ran to the ring to stop his wife.
In the main event of "SmackDown Live," Cena and The Miz competed in a 10-man battle royal, looking to earn a WWE Championship Match against Bray Wyatt at WrestleMania 33. Shortly after The Miz was eliminated by Cena he went back into the ring and tossed the 16-time world champion over the top rope. Even though The Miz had already been knocked out of the match, the no-disqualification rules allowed him to end Cena's hopes of fighting in the main event of WrestleMania for the first time since 2013.
Seeds for the feud were also planted at WWE Elimination Chamber last week. Nikki collided with Maryse backstage when she was attacked by Natalya at the pay-per-view, though Maryse didn't retaliate. Cena eliminated The Miz in the six-man Elimination Chamber Match for the WWE Championship.
It won't be the first time Cena and The Miz meet at WWE's biggest event of the year. With help from The Rock, The Miz defeated Cena to retain the WWE Championship in the main event of WrestleMania 27. This time, however, no title will be on the line, and it looks like their significant others will be involved to make it a mixed tag team match.
The Miz hasn't been involved in a high-profile WrestleMania match since he defeated Cena six years ago, always competing on the pre-show or in matches with at least six other WWE superstars. Any match that Cena is a part of is usually one of the biggest on the show, though this match might not be very high on the card. It will take a backseat to the WWE Championship Match, the WWE Universal Championship Match and The Undertaker's match.
Nikki last had a WrestleMania match when she teamed up with Brie Bella against AJ Lee and Paige in 2015. Maryse hasn't had a WWE match in six years.
© Copyright IBTimes 2022. All rights reserved.