John Christopher Ludwick, Natalee Holloway Murder Suspect's Accomplice, Killed While Attempting Kidnapping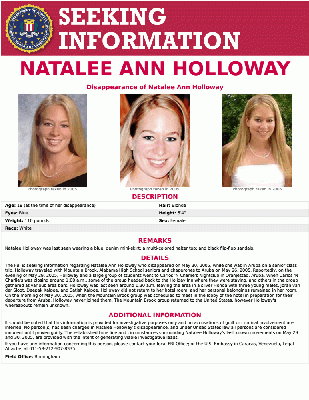 A man who helped dispose the remains of missing teenager Natalee Holloway in Aruba was fatally stabbed by a woman while attempting kidnapping, authorities said Wednesday. John Christopher Ludwick made headlines during Oxygen's "The Disappearance of Natalee Holloway" series in September 2017 when he admitted to have taken money from the teenager's murder suspect Joran van der Sloot.
On Wednesday, police in North Port, nearly 60 miles south of Tampa, said Ludwick was declared dead after he was stabbed by an unidentified woman whom he tried to kidnap. A struggle erupted between the two in the woman's driveway and she ended up stabbing him.
North Port police spokesman Joshua Taylor said Ludwick knew the person he was trying to kidnap. The two were reportedly roommates at one point and Ludwick wanted a romantic relationship with her, but the woman declined his proposal.
"He essentially ambushed her getting out of her car, going into her home," Taylor said, adding during the scuffle between the two on Wednesday, she was able to wrestle a knife from Ludwick, with which she stabbed him in the abdomen.
"He then fled the area on foot," police said in a statement. "He was found nearby suffering from the stab wounds. After being transported by air he was pronounced dead at a local hospital."
Taylor said the woman will not be criminally charged in Ludwick's death.
"From every ounce of evidence we have so far, she was a victim in this case," he said. "We have nothing to say otherwise right now."
Taylor also said authorities are "aware of Mr. Ludwick's history and comments surrounding the disappearance of Natalee Ann Holloway in Aruba during May of 2005. The correct authorities who are working that case have been notified. Our investigation in this local case is ongoing."
Last year, Ludwick claimed Sloot — the prime suspect in Holloway's disappearance — paid him $1,500 to dig up her body, cremate them and scatter the ashes in Aruba in 2010, five years after the 18-year-old vanished on the Dutch Caribbean island. Sloot is currently serving a 28-year prison sentence in Peru for the murder of 21-year-old Stephany Flores in 2000.
In the fifth episode of the Oxygen series, Ludwick revealed Sloot initially discussed having Holloway's remains cremated. Even though it was illegal to bring in human remains for cremation in Aruba, Ludwick said some morgues would cremate pets.
"The idea was to crush everything to the point where it wasn't recognizable as her bones or skull or anything like that," Ludwick said, explaining he and Sloot spent hours pummeling the bones. "The only thing that got burned was the skull to burn the hair fibers. It was doused in gasoline in a fire pit in a cave."
Earlier episodes revealed Holloway's remains were mixed with that of a dog and cremated. Days later, the ashes were likely scattered off the coast of Aruba, from where the teenager went missing in 2005.
Holloway's father Dave spent months to uncover the mystery behind his daughter's death. Dave, along with his private investigator T.J. Ward, featured their discovery and possible evidence in the Oxygen series. His 18-month long private investigation found human skeletal remains at an undisclosed location in Aruba. One of the four bone samples was that of human, but did not match with Holloway.
© Copyright IBTimes 2023. All rights reserved.