John McCain To Miss Tax Vote, Will That Affect Math To Pass It?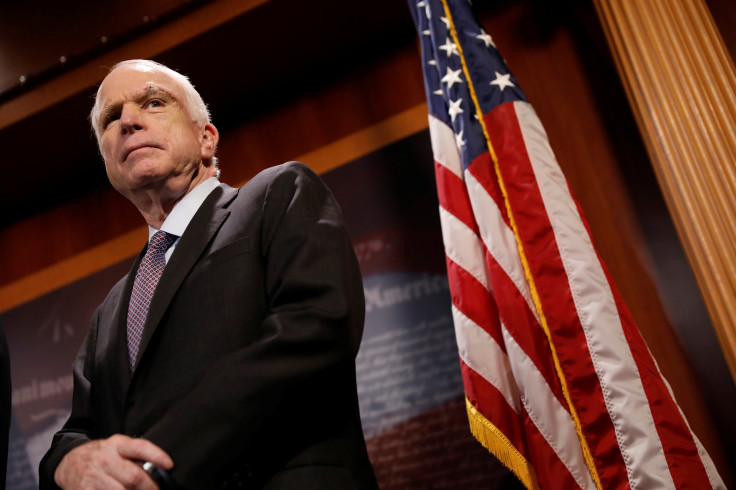 Republican Sen. John McCain is heading back to Arizona and will likely miss the final vote for the Republican tax bill expected to come early this week. McCain, who was diagnosed with brain cancer, spent several days recovering from chemotherapy treatments at a Maryland hospital and went home to spend the holidays with his family. It is unclear when he will return to Washington, D.C.
Republicans hold a slim majority over Democrats in Congress, 52-48 and could only afford to lose two votes in order to pass their bill. In the event of an even split, Vice President Mike Pence casts the deciding vote. With McCain out, the Republicans can afford to lose only one more GOP senator. Democrats would need to peel off two Republicans in order to stop the bill.
When asked about the bill on Sunday afternoon, President Donald Trump said that McCain would come back "if we ever need his vote."
Versions of the tax bill already passed the House and the Senate. Republicans reconciled their bills and released the final version Friday. It will be sent back to both bodies this week, the House may call a vote as early as Tuesday, according to CBS News.
"I'm very excited about this moment. It's been 31 years in the making and took a lot of hard work by a lot of people to make this day happen. I'm proud of the Tax Cuts and Jobs Act," said Republican Rep. Kevin Brady of Texas on Friday. He chairs the House Ways and Means Committee.
Republicans seemed confident over the weekend that they had the votes to pass the bill. Sen. Bob Corker of Tennessee was the only Republican to vote against the Senate's version of the bill because he said he thought it would increase the deficit. On Friday, however, Corker said he was onboard.
Republican Sen. Marco Rubio expressed concern over the bill because of the child tax credit but has since announced he will support it. Sen. Susan Collins of Maine, considered the most moderate member of the Senate, traded her support for the bill for promises of taking future action to stabilize the healthcare markets created by the Affordable Care Act, or Obamacare.
McCain, 81, was at Walter Reed National Military since Wednesday, before heading back to Arizona. McCain was diagnosed with an aggressive tumor called glioblastoma earlier this year.
© Copyright IBTimes 2023. All rights reserved.