John Paul Stevens, Former Supreme Court Justice, Dies At 99
John Paul Stevens, former Supreme Court justice who has served for over 35 years, has died. He was 99.
"On behalf of the Court and retired Justices, I am saddened to report that our colleague Justice John Paul Stevens has passed away," Chief Justice John Roberts Jr. said in a statement through the Supreme Court.
"A son of the Midwest heartland and a veteran of World War II, Justice Stevens devoted his long life to public service, including 35 years on the Supreme Court. He brought to our bench an inimitable blend of kindness, humility, wisdom, and independence. His unrelenting commitment to justice has left us a better nation."
Stevens was nominated to the Supreme Court by President Gerald Ford in 1975. During his tenure, he became the voice of the powerless and was vocal on certain issues; some controversial at the time.
Stevens was a major influencing figure on abortion rights, placing limits on death penalty and allowing Guantanamo Bay terrorism suspects to plead freedom.
He was considered the leader of the liberal side of the bench before stepping down in 2010 at age 90, becoming the second oldest justice in the court's history.
Stevens was a Chicago-local, being born in the South Side in 1920 and eventually graduating from the University of Chicago. He graduated from the Northwestern Law School in 1947. He then joined the Navy and received a Bronze Star for his service.
Even after retiring from the Supreme Court, he continued to author books and appear in conventions.
Stevens is survived by his two daughters and nine grandchildren.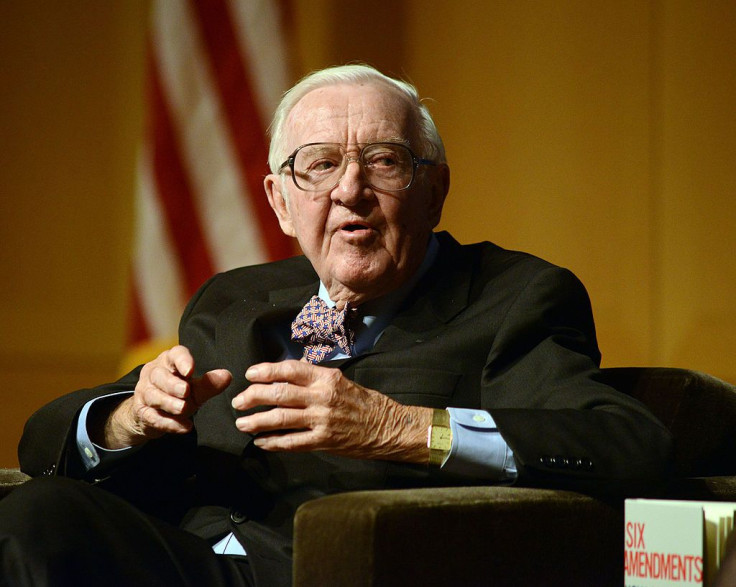 © Copyright IBTimes 2023. All rights reserved.